The Lakes Handbook: 2 Volume Set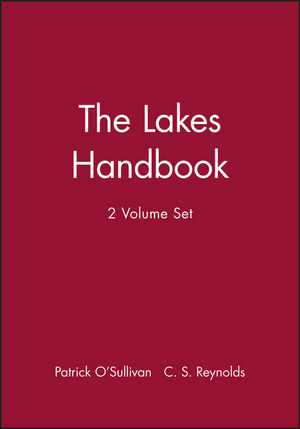 The Lakes Handbook: 2 Volume Set
ISBN: 978-0-632-04794-9
Mar 2005, Wiley-Blackwell
528 pages
Description
Continuing concern about water supply and quality, ecosystem sustainability and restoration demands that the modern approach to the management of lakes and reservoirs should be based on a sound understanding of the application of the scientific and ecological principles that underlie freshwater processes.


The Lakes Handbook provides an up-to-date overview of the application of ecologically sound approaches, methods and tools using experience gained around the world for an understanding of lakes and their management. Volume one of the Handbook addresses the physical and biological aspects of lakes pertinent to lake management, emphasising those aspects particularly relevant to large, still bodies of water. Volume two then considers lake management, with particular emphasis on sustainability, restoration and rehabilitation.


This handbook will be invaluable to ecologists, environmental scientists, physical geographers and hydrologists involved in limnological research, as well as advanced undergraduate and graduate students looking for authoritative reviews of the key areas of limnological study.



Brings together basic science and management issues.

Provides international coverage and international authors.

Reviews management issues at a level suitable for the non-expert.
Buy Both and Save 25%!
Original Price:$1,035.95
Purchased together:$776.96
save $258.99
Cannot be combined with any other offers.
Buy Both and Save 25%!
Original Price:$720.95
Purchased together:$540.71
save $180.24
Cannot be combined with any other offers.
Volume I
.
1. Lakes, Limnology And Limnetic Ecology: Towards A New Synthesis.
2. The Origin Of Lake Basins.
3. The Hydrology Of Lakes.
4. Chemical Processes Regulating The Composition Of Lake Waters.
5. Physical Properties Of Water Relevant To Limnology And Limnetic Ecology.
6. The Motion Of Lake Waters.
7. Regulatory Impacts Of Humic Substances In Lakes.
8. Sedimentation And Lake Sediment Formation.
9. Organisation And Energetic Partitioning Of Limnetic Communities.
10. Phytoplankton.
11. Aquatic Plants And Lake Ecosystems.
12. Benthic Invertebrates.
13. Pelagic Microbes - Protozoa And The Microbial Food Web.
14. Zooplankton.
15. Fish Population Ecology.
16. Fish Community Ecology.
17. Self-Regulation Of Limnetic Ecosystems.
18. Palaeolimnology.
Volume II.
Part I: General Issues:.
1. Introduction: Eutrophication And The Value Of Lakes.
2. Assault On The Quality Of Lakes.
Part II: Regional Studies:.
3. Lakes - North America.
4. Lake Washington.
5. Nordic Lakes.
6. Alpine Lakes.
7. Lake Baikal.
8. Lakes Of The Arid Zone.
9. Lakes Of Latin America.
Part III: Human Impact On Specific Lake Types:.
10. Shallow, Temperate Lakes.
11. Shallow, Tropical Lakes.
12. Reservoirs.
13. Lake Acidification.
Part IV: Lake And Catchment Models:.
14. Catchment Models.
15. OECD Models.
16. Lake Models.
17. The Reversal Of Eutrophication.
18. Biomanipulation.
19. Restoration Of Acidified Lakes.
Part V: Legal Frameworks:.
20. North America.
21. Nordic Europe.
22. East Africa.
23. South Africa


provides an up-to-date overview of the application of ecologically sound approaches, methods and tools for an understanding of lakes and their management

volume one addresses the physical and biological aspects of lakes pertinent to lake management, emphasising those aspects particularly relevant to large, still bodies of water

volume two considers lake management, with particular emphasis on sustainability, restoration and rehabilitation

brings together basic science and management issues

international coverage and international authors