The Lakes Handbook: Lake Restoration and Rehabilitation, Volume 2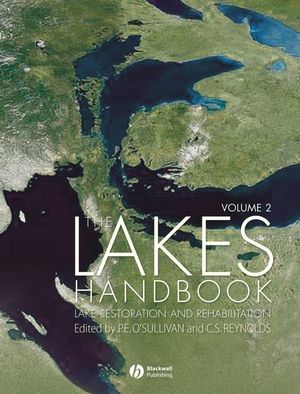 The Lakes Handbook: Lake Restoration and Rehabilitation, Volume 2
ISBN: 978-0-470-75050-6 November 2007 Wiley-Blackwell 568 Pages
Description
Continuing concern about water supply and quality, ecosystem sustainability and restoration demands that the modern approach to the management of lakes and reservoirs should be based on a sound understanding of the application of the scientific and ecological principles that underlie freshwater processes.





The Lakes Handbook provides an up-to-date overview of the application of ecologically sound approaches, methods and tools using experience gained around the world for an understanding of lakes and their management. Volume one of the Handbook addresses the physical and biological aspects of lakes pertinent to lake management, emphasising those aspects particularly relevant to large, still bodies of water. Volume two then considers lake management, with particular emphasis on sustainability, restoration and rehabilitation.





This handbook will be invaluable to ecologists, environmental scientists, physical geographers and hydrologists involved in limnological research, as well as advanced undergraduate and graduate students looking for authoritative reviews of the key areas of limnological study.
Part I: General Issues.
1. On The Value Of Lakes: Patrick O'Sullivan.
2. The Assault On The Quality Of Lakes: Wilhelm Ripl and Klaus-Dieter Wolter.
Part II: Regional Studies.
3. The North American Great Lakes: Marlene S. Evans.
4. Lake Washington: W.T. Edmondson.
5. Lakes of Northern Europe: Heikki Simola and Lauri Arvola.
6. European Alpine Lakes: Martin T. Dokulil.
7. Lake Baikal And Other Great Lakes Of Asia: Lyudmila G. Butorina.
8. Lakes In Arid Environments: W.D. Williams.
9. Floodplain Lakes And Reservoirs In Tropical And Subtropical South America: John M. Melack.
Part III: Human Impact On Specific Lake Types.
10. Shallow Temperate Lakes: G.L. Phillips.
11. Shallow Tropical Lakes:Patrick L. Osborne.
12. Reservoirs And Other Artificial Water Bodies: Milan Straskraba.
Part IV: Lake And Catchment Models.
13. The Export Coefficient Approach to Prediction of Nutrient Loadings: Helen M. Wilson.
14. The Phosphorus Loading Concept And The OECD Eutrophication Programme; Walter Rast and Jeffrey A. Thornton.
15. Models Of Lakes And Reservoirs: Sven-Erik Jorgensen.
16. The Assessment, Management And Reversal Of Eutrophication: Helmut Klapper.
17. Biomanipulation In Shallow Lakes: S. Harry Hosper, Marie-Louise Meijer, R.D. Gulati and Ellen van Donk.
18. Restoring Acid Lakes: Lennart Henrikson, Atle Hindar and Ingemar Abrahamsson.
Part V: Legal Frameworks.
19. The Framework For Managing Lakes In The United States of America: Thomas Davenport.
20. Nordic Lakes: Marianne Lindstrom.
21. The Problem Of Rehabilitating Lakes And Wetlands In Developing Countries: F.W.B. Bugenyi.
22. South Africa: Towards Protecting Our Lakes: G.I. Cowan
"In this length-constrained review, it is simply impossible to do justice to a volume of such detail, scope and importance. While much of it is too specialized to serve as a stand-alone introductory text for the uninitiated (certainly more so than Volume 1), I suspect that this volume's appeal may be greater, given its strong applied focus. It promises a great deal for postgraduates commencing studies on lacustrine systems. No serious contemporary lake limnologist can afford to go without this volume. It is a must-have, and I anticipate frequent returns to my inspection copy of it." (African Journal of Aquatic Science, 2007)
"...
The Lakes Handbook
is a valuable contribution to the understanding of limnology, a science poorly-supported by definitive texts and is highly recommended!"
Environews, Southern Africa
"This book is well organized and contains a wealth of information on lake restoration and rehabilitation...this is an excellent book and addresses its title very well." Environmental Conservation, February 2006


provides an up-to-date overview of the application of ecologically sound approaches, methods and tools for an understanding of lakes and their management

volume one addresses the physical and biological aspects of lakes pertinent to lake management, emphasising those aspects particularly relevant to large, still bodies of water

volume two considers lake management, with particular emphasis on sustainability, restoration and rehabilitation

brings together basic science and management issues

international coverage and international authors