The Language Revolution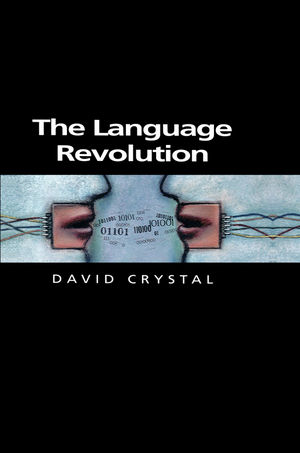 The Language Revolution
ISBN: 978-0-745-63313-8 March 2004 Polity 152 Pages
Description
We are living through the consequences of a linguistic revolution. Dramatic linguistic change has left us at the beginning of a new era in the evolution of human language, with repercussions for many individual languages.
In this book, David Crystal, one of the world's authorities on language, brings together for the first time the three major trends which he argues have fundamentally altered the world's linguistic ecology: first, the emergence of English as the world's first truly global language; second, the crisis facing huge numbers of languages which are currently endangered or dying; and, third, the radical effect on language of the arrival of Internet technology.

Examining the interrelationships between these topics, Crystal encounters a vision of a linguistic future which is radically different from what has existed in the past, and which will make us revise many cherished concepts relating to the way we think about and work with languages. Everyone is affected by this linguistic revolution.

The Language Revolution will be essential reading for anyone interested in language and communication in the twenty-first century.
Table of contents
Preface.
Acknowledgements.
Introduction A new linguistic world.
Chapter 1 The future of Englishes.
Chapter 2 The future of languages.
Chapter 3 The role of the Internet.
Chapter 4 After the revolution.
Chapter 5 Language themes for the twenty-first century.
Notes.
Index
Reviews
"David Crystal has written an admirably clear, accessible and lively account of what he sees as the main ingredients in an ongoing language revolution."
Soelve Ohlander, Moderna Sprak

"An interesting, idea-rich and provoking read."

Linguist List

"This is the first book to deal with the really important question of "what to do next?" After the rise of English, the endangerment of minoritized languages the world over and the web's tilt toward where the money is, what can we who treasure diversity as the real human (and humanizing) condition "do about" the continued and accelerating demise of scores of languages every month? Crystal is a master of simplifying (but not oversimplifying) the difficult, as well as of involving the reader in ideas and efforts that go beyond the status quo and good intentions. Three cheers for more of the same!'"

Joshua A. Fishman, Yeshiva University, Stanford University and New York University

"A helpful compact overview of global language trends and their relationship to one another."

Jean Aitchison, University of Oxford

"Crystal's insight into the current linguistic climate is valuable, his comment on the revolutionary changes informative and thorough, and his argument characteristically clear."

Dr. Murari Prasad, Yemen Observer Newspaper
Features


The author has written separate books on the three separate trends involved in the language revolution, but this is the first time that he has brought them together into a single argument.


The author is a world authority on language and widely published in the field.


Written in a highly accessible style, the book assumes no prior knowledge of linguistics and is aimed at the general interested reader.