The Last Caudillo: Alvaro Obregón and the Mexican Revolution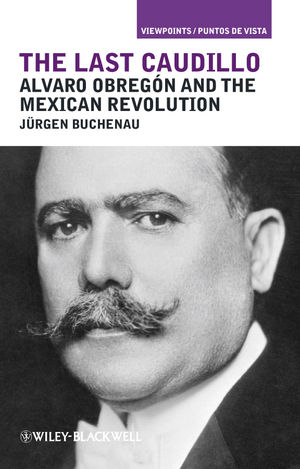 The Last Caudillo: Alvaro Obregón and the Mexican Revolution
ISBN: 978-1-444-39719-2 March 2012 Wiley-Blackwell 208 Pages
Description
The Last Caudillo
presents a brief biography of the life and times of General Alvaro Obregón, along with new insights into the Mexican Revolution and authoritarian rule in Latin America.
Features a succinct biography of the life and times of a fascinating figure in Mexico's revolutionary past
Represents the most analytical and up-to-date study of caudillo/military strongman rule
Sheds new light on the networks and discourse practices that support rulers such as the Castros in Cuba and Hugo Chávez in Venezuela, and the emergence of modern Mexico
Offers new insights into the role of leadership, the nature of revolution, and the complex forces that helped shape modern Mexico
Table of contents
List of Illustrations.
Preface.
Acknowledgments.
Introduction.
1. The Background of the Last Caudillo.
From Santa Anna to Díaz.
The Sonoran Background.
2. An Improvised Leader, 1880–1913.
Obregón's Early Years.
Obregón and the Beginning of the Mexican Revolution.
Obregón's First Campaign.
3. Chaos and Triumph, 1913–1916.
Obregón and the War Against Huerta.
Obregón and the Clash Between Carranza and Villa.
Obregón in the War Between the Factions.
4. The Path to Power, 1916–1920.
Obregón's Emergence as a Political Leader.
The Cincinnatus of the West (Part One).
The Campaign for the Presidency.
5. The President, 1920–1924.
The Construction of Obregón's Political Machine.
Rebuilding the Nation.
The Violent Breakup of the Sonoran Alliance.
6. The Last Caudillo, 1924–1928.
A Troubled Agribusiness.
The Cincinnatus of the West (Part Two).
The Second Presidential Campaign.
The Death of the Caudillo.
7. The Unquiet Grave.
After the Caudillo.
An Arm and a Revolution on a Stage.
A Revolution and a Leader Lose Respect.
Notes.
Bibliography.
Index.
Reviews
"The Last Caudillo is a fine biography of Alvaro Obregon, as well as an excellent overview of the Mexican Revolution. Students will come away with a good understanding of the social forces and political events that shaped Mexico during this critical time in its history. The book is also a great companion to Buchenau's earlier work, Plutarco Elas Calles and the Mexican Revolution, published in 2006."  (The Latin Americanist, 1 September 2013)
"The Last Caudillo calls in an impressive array of primary sources to render an evenhanded portrait of Obregón as it appropriately casts him as a pivotal figure in the making of modern Mexico. …more specifically, Buchenau taps into the historiography of the Latin American strongman or "caudillo" in considering Obregón the last of that lineage, to come to an end when institutions, political parties, enforceable laws, bureaucracy, "systems" and "networks" overwhelmed—for better or worse—the many vicissitudes of individual power."  (The Americas, 1 October 2012)
"It is Buchenau's combined analysis of caudillismo, the Mexican revolution, and Alvaro Obregon that makes this book an important contribution to the literature on this revolutionary figure and the times that produced him. Summing Up: Highly recommended. Upper-division undergraduates and above." (Choice, 1 November 2011)