The Last Empress: The She-Dragon of China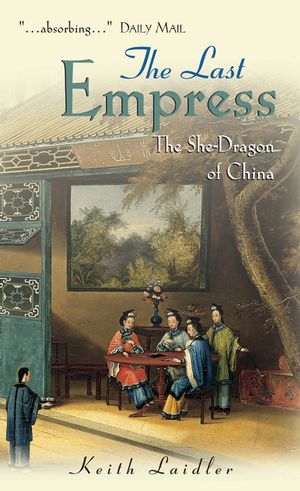 The Last Empress: The She-Dragon of China
ISBN: 978-0-470-86426-5
Jan 2005
316 pages
Description
In 1851, a sixteen-year-old girl named Yehonala entered the Imperial Palace of China as a concubine third grade, leaving behind her family, the love of her life, and nearly all contact with the outside world. She emerged as Tsu Hsi, Dowager Empress of China and one of the most powerful autocrats in history. A fascinating tale of love, betrayal, murder, intrigue, and survival, The Last Empress offers remarkable insight into life behind the closed doors of the forbidden city.
Author's note.
Acknowledgements.
Cast of major characters.
Maps.
Introduction.
Timeline.
No joy shall be equal...
The coming of the Manchu.
Concubine, third class.
The Great Within.
Rebels and foreign devils.
The Emperor flees.
Acts of barbarism.
Silent conspiracy.
An auspicious beginning.
Death of a favourite.
The Emperor's 'good fortune'.
Slicing the melon.
When a bird is dying.
'Retirement'.
Rebel Emperor.
Coup and countercoup.
Self-strengthening.
The Righteous Harmonious Fists.
Siege at Beijing.
Flight ... and return.
Reluctant departure.
Epilogue.
Postscript.
References and notes.
Bibliography.
Index.
"a fascinating story" (Publishing News, 19 July 2002) 
"…he tells a tale of love betrayal, murder and intrigue…" (Sunday Telegraph, 12 October 2003)