The Leader's Edge: Six Creative Competencies for Navigating Complex Challenges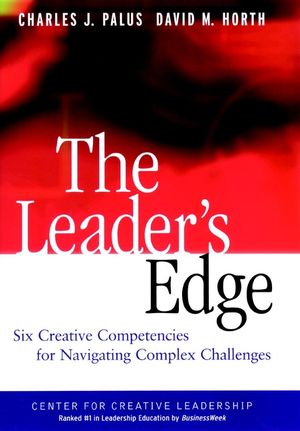 The Leader's Edge: Six Creative Competencies for Navigating Complex Challenges
ISBN: 978-0-787-96383-5 October 2002 Jossey-Bass 304 Pages
Description
Let the Center for Creative Leadership show you how you can dramatically improve your leadership abilities in today's business environment. Based on years of specialized research, The Leader's Edge outlines six distinct creative leadership skills that, while not traditionally associated with management development, have, nevertheless, proven to be essential to modern business leadership. Here, the book's authors deliver compelling lessons in paying attention, personalizing, imaging, serious play, collaborative inquiry, and crafting -- all competencies that modern leaders should master. They also outline activities for real-world implementation, provide case examples, and suggest ways to avoid common mistakes. A wealth of self-reflections and tools helps ensure your rapid progress.
Preface.

Acknowledgments.

The Authors.

Introduction: Navigating Complex Challenges.

1. Paying Attention.

Shifting Between Modes of Attention.

Understanding Left-Mode and Right-Mode Attention.

Using Kinesthetic Attention.

Paying Attention to Negative Space.

Asking Powerful Questions.

Developing the Competency of Paying Attention.

Cautions.

2. Personalizing.

Learning Begins with the Personal Connection.

Practicing Assessment for Development (A4D).

Practicing Exploration for Development (E4D).

Tapping Into Your Passion.

Knowing When to Let Go of Your Personal Side.

Developing the Competency of Personalizing.

Cautions.

3. Imaging.

Making Imagination Tangible.

Seeing Organizational Vision in a New Light.

Exploring Scenarios.

Making and Using Metaphors.

Making Poetry in the Face of Complexity.

Developing the Competency of Imaging.

Cautions.

4. Serious Play.

Play Enhances Learning amid Turbulence.

Play Is a Community Activity.

Play Is the Heart of Science and Technology.

Developing the Competency of Serious Play.

Cautions.

5. Co-Inquiry.

Building Creative Leadership Communities.

Creating Spaces for Group Work.

Conducting Dialogue.

Putting Something in the Middle.

Crossing Boundaries.

Developing the Competency of Co-Inquiry.

Cautions.

6. Crafting.

Thinking in Wholes.

Crafting Decisions.

Building Scaffolds for Learning.

Developing Leadership as Science and as Art.

Learning from Artists.

Developing the Competency of Crafting.

Cautions.

7. Creative Leadership in Action.

Case Study 1: Task Force Collaboration.

Case Study 2: Leadership in New Media.

Case Study 3: Individual Leadership Coaching.

Case Study 4: Creative Product Innovation.

Case Study 5: Executive Interdependence.

Case Study 6: Inventing a New Manufacturing Paradigm.

Appendix A: The Leading Creatively Program.

Appendix B: Our Research Methods.

Appendix C: A Reflective Assessment of C2 Competencies: Competencies for Making Sense of Complex Challenges.

Appendix D: The ORC Star-Mapping Process.

Notes.

Bibliography.

Index.

About the Center for Creative Leadership.