The Leader on the Couch: A Clinical Approach to Changing People and Organizations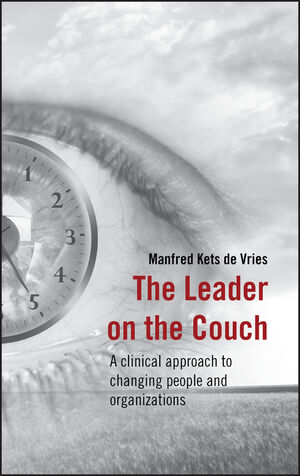 The Leader on the Couch: A Clinical Approach to Changing People and Organizations
ISBN: 978-1-119-99560-9 January 2011 Jossey-Bass 436 Pages
Description
Despite the proven benefits of emotional intelligence, organizational life has typically been hostile to the inner world of feeling. Rationality is deemed superior to feeling, which can contaminate judgment. But without feeling there is no passion, and no action. This book sets out to change people and organizations for the better, by revealing the 'dark side' of leadership behaviour and its impact on performance. Tapping into the startling parallels between the journey to emotional intelligence, the process of psychoanalysis, the practice of leadership coaching and the Zen journey to enlightenment, renowned thinker Manfred Kets de Vries helps executives, consultants, and coaches to peel back the layers of self-deception and reveal how inner personality – largely hard-wired since early childhood – affects the way they lead and manage others.
Preface.
Acknowledgments.
About the Author.
1. Introduction: The Clinical Paradigm.
PART ONE. ENTERING THE INNER THEATER OF LEADERS.
2. The Narcissistic Leader: Myth and Reality.
3. A Parade of Personalities.
4. Leaders and Followers: Moving Away from People.
5. Leaders and Followers: Moving Against People.
6. Elation and Its Vicissitudes.
7. The Impostor Syndrome: The Shadow Side of Success.
PART TWO. CHANGING MINDSETS.
8. Can Leaders Change? Yes, But Only If They Want To.
9. Taking the Road Less Traveled.
10. Coach or Couch, Anybody?
11. Group Leadership Coaching.
PART THREE. UNDERSTANDING THE PSYCHODYNAMICS OF GROUPS AND ORGANIZATIONS.
12. The Unconscious Life of Groups and Organizations.
13. Unraveling the Mystery of Organizations.
14. Conclusion: Creating "Authentizotic" Organizations.
Index.
""One new book that does deserve praise"" (
Financial Times Career Point
, September 2006)
""As Manfred Kets de Vries, a professor at Insead business school, shows in a new book, the psychological condition of leaders can have a profound impact on all those who work under them."" (Financial Times, October 2006)
""Fascinating Freudian look at chief executives and their occasionally rather damaged psychologies. Read this ..."" (FTmagazine, December 2006)
""...Manfred Kets de Vries, sets out to change people ... for the better by revealing the 'dark side' of leadership behaviour..."" (Professional Consultancy, January 2007)