The Leadership Brain For Dummies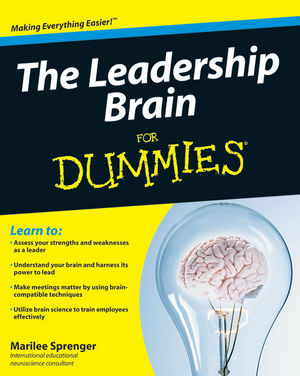 The Leadership Brain For Dummies
ISBN: 978-0-470-60005-4 December 2009 360 Pages
Description
Discover how scientific knowledge of the brain can make you a better leader
Based upon the latest breakthroughs in neuroscience and advances in brain-based education, Leadership Brain For Dummies gives you the edge to influence, lead, and transform any team or organization.
Drawing concrete connections between the growing scientific knowledge of the brain and leadership, this book gives you the skills to assess your strengths and weaknesses as a leader, adopt a style of leadership that suits your characteristics, determine the learning styles of individual employees, and conduct training sessions that can physically change brains.
The author is an international educational neuroscience consultant and an adjunct professor, teaching brain-compatible strategies and memory courses. She is a member of the American Academy of Neurology, the Cognitive Neuroscience Society, and the Learning and Brain Society
Leadership Brain For Dummies provides practical, hands-on guidance for applying the information to make you a better leader
The Leadership Brain For Dummies positions current and aspiring leaders to be at the very top of their leadership game.
Table of contents
Introduction.
Part I: Leadership Is All in Your Head.
Chapter 1: Connecting Brain Science to Leadership Principles.
Chapter 2: The Science behind the Brain.
Chapter 3: Discovering the Elements of Learning and Memory.
Chapter 4: Leaders Are Made, Not Born.
Chapter 5: Linking Leadership and the Brain.
Part II: Tapping Into the Brain of a Leader.
Chapter 6: Becoming the Leader You Want to Be.
Chapter 7: Harnessing Multiple Intelligences.
Chapter 8: Assessing and Applying Your Emotional Intelligence.
Chapter 9: Thinking Your Way to the Top: Decision-Making.
Part III: Working with the Brains You Have.
Chapter 10: Enabling Your Current Employees to Excel.
Chapter 11: Hiring the Best Brain for the Job.
Chapter 12: Optimizing Working Conditions.
Chapter 13: Understanding Male and Female Brains at Work.
Chapter 14: Making Teams Work.
Chapter 15: Overcoming the Digital Divide.
Part IV: Training and Developing Brains.
Chapter 16: No Train, No Gain: Understanding the Value of Training.
Chapter 17: Ensuring that Employees Are Fit to Be Trained.
Chapter 18: Holding Sticky Training Sessions.
Chapter 19: Changing Minds: Training by Redesigning Brains.
Chapter 20: Conducting Meetings That Matter.
Part V: The Part of Tens.
Chapter 21: Debunking Ten Brain Myths.
Chapter 22: Ten Tips for Brain-Based Leadership.
Chapter 23: Ten Ways to Build a Better Brain.
Index.