The Leadership Challenge, 4th Edition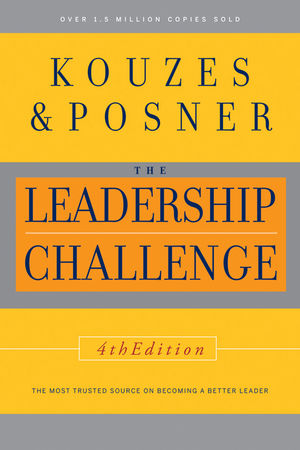 The Leadership Challenge, 4th Edition
ISBN: 978-0-787-98492-2
Aug 2008, Jossey-Bass
416 pages
Product not available for purchase
Description
The most trusted resource on becoming a leader is now updated and revised for a new generation.

This leadership classic continues to be a bestseller after three editions and twenty years in print. It is the gold standard for research-based leadership, and the premier resource on becoming a leader. This new edition, with streamlined text, more international and business examples, and a graphic redesign, is more readable and accessible than ever before.

The Leadership Challenge, Fourth Edition, has been extensively updated with the latest research and case studies, and offers inspiring new stories of real people achieving extraordinary results. The authors' central theme remains the same and is more relevant today than ever: "Leadership is Everyone?s Business." Their "five practices" and "ten commitments" have been proven by hundreds of thousands of dedicated, successful leaders. This edition, with almost one-third new material, emphasizes the global community and refocuses on business leaders.
Preface: Getting Extraordinary Things Done in Organizations.
1 WHAT LEADERS DO AND WHAT CONSTITUENTS EXPECT.
1 THE FIVE PRACTICES OF EXEMPLARY LEADERSHIP.
Leadership Opportunities Are Everywhere.
The Five Practices of Exemplary Leadership.
Leadership Is a Relationship.
The Ten Commitments of Leadership.
2 CREDIBILITY IS THE FOUNDATION OF LEADERSHIP.
What People Look For and Admire in Leaders.
Putting It All Together: Credibility Is the Foundation.
2 MODEL THE WAY.
3 CLARIFY VALUES.
Find Your Voice.
Affirm Shared Values.
Reflection and Action.
4 SET THE EXAMPLE.
Personify the Shared Values.
Teach Others to Model the Values.
Reflection and Action.
3 INSPIRE A SHARED VISION.
5 ENVISION THE FUTURE.
Imagine the Possibilities.
Find a Common Purpose.
Reflection and Action.
6 ENLIST OTHERS.
Appeal to Common Ideals.
Animate the Vision.
Reflection and Action.
4 CHALLENGE THE PROCESS.
7 SEARCH FOR OPPORTUNITIES.
Seize the Initiative.
Exercise Outsight.
Reflection and Action.
8 EXPERIMENT AND TAKE RISKS.
Generate Small Wins.
Learn from Experience.
Reflection and Action.
5 ENABLE OTHERS TO ACT.
9 FOSTER COLLABORATION.
Create a Climate of Trust.
Facilitate Relationships.
Reflection and Action.
10 STRENGTHEN OTHERS.
Enhance Self-Determination.
Develop Competence and Confidence.
Reflection and Action.
6 ENCOURAGE THE HEART.
11 RECOGNIZE CONTRIBUTIONS.
Expect the Best.
Personalize Recognition.
Reflection and Action.
12 CELEBRATE THE VALUES AND VICTORIES.
Create a Spirit of Community.
Be Personally Involved.
Reflection and Action.
7 LEADERSHIP FOR EVERYONE.
13 LEADERSHIP IS EVERYONE'S BUSINESS.
You Are the Most Important Leader in Your Organization.
Leadership Is Learned.
Leaders Make a Difference.
First Lead Yourself.
Moral Leadership Calls Us to Higher Purposes.
Humility Is the Antidote to Hubris.
Leadership Is in the Moment.
The Secret to Success in Life.
Notes.
Acknowledgments.
About the Authors.
Index.
The 4th edition will include streamlined text, more international and business examples, and a re-design.

Extensively updated with new cases and applications
"The management classic", (
Financial Times
, Tuesday 11th September 2007)
"After 20 years in print, this key publication has undergone a substantial revision for its fourth edition." (People Management, Thursday 1st November 2007)
"After three editions and 20 years in print, this leadership classic continues to be the premier resource on becoming a leader."  (Securities & Investment Review, November 2007)
The most trusted resource on becoming a leader— fully updated and revised for a new generation

Emphasis on leadership as a relationship -- one of personal self-development and the development of those being led

Emphasizes the global community, refocuses the book on business leaders, and includes almost a third new material