The Leadership Challenge Practice Book, 4th Edition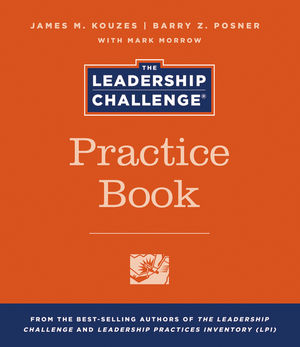 The Leadership Challenge Practice Book, 4th Edition
ISBN: 978-0-470-59197-0
Jun 2010, Pfeiffer
160 pages
Product not available for purchase
Description
Practice Makes Perfect...or at Least Better
In their bestselling book, The Leadership Challenge, authors Jim Kouzes and Barry Posner present a practical, accessible, and evidence-based leadership model with a simple, yet profound, principle at its core: leadership is a measurable and learnable set of behaviors. Embodied in the book's foundation model, The Five Practices of Exemplary Leadership, is the notion that leadership is not an event, but a process that requires ongoing and deliberate practice. This new leadership development tool, The Leadership Challenge Practice Book, serves as a practical daily support resource for leaders looking to extend their Leadership Challenge journey.
Incorporating the 30 behaviors from the Leadership Practices Inventory (LPI), The Leadership Challenge Practice Book presents daily practice routines and activities to help leaders become more effective by increasing the frequency with which they exhibit The Five Practices of Exemplary Leadership. It is intended to be used as a daily, ongoing practice guide. The book's five sections follow a Monday through Friday format, with each day offering a different LPI behavior focus and supporting practice activities. Monthly and quarterly practice activities are offered at the end of each section along with a quick progress checklist called Make It a Daily Habit.
The Leadership Challenge Practice Book includes everything you need to reinforce a powerful learning experience and enables you to put your leadership skills into action, advancing the projects and people that matter most to you and your work.
Introduction PAGE v
SECTION 1
Model the Way PAGE 1
SECTION 2
Inspire a Shared Vision PAGE 27
SECTION 3
Challenge the Process PAGE 53
SECTION 4
Enable Others to Act PAGE 79
SECTION 5
Encourage the Heart PAGE 105
APPENDIX A
Practice Tracking Matrix PAGE 131
APPENDIX B
Social Networking PAGE 135