The Leadership Challenge Workshop, Facilitator's Guide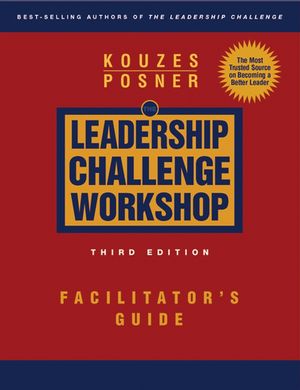 The Leadership Challenge Workshop, Facilitator's Guide
ISBN: 978-0-787-97839-6
Dec 2004, Pfeiffer
240 pages
Product not available for purchase
Description
This comprehensive Facilitator's Guide includes everything you need to create a powerful two- or three-day learning program grounded in The Five Practices of Exemplary Leadership: Model the Way, Inspire a Shared Vision, Challenge the Process, Enable Others to Act, and Encourage the Heart.  Participants will encounter an experiential learning process that involves four stages: Experience: Gather data or knowledge through direct experience; Identify: Relate feelings, reactions, and observations to the experience and identify common patterns or themes; Generalize: Draw conclusions or generalizations based on the patterns; Apply: Apply the generalized learnings to current real situations. 

The Facilitator's Guide includes:
1-Day, 2-Day, and 3-Day Participant's Workbooks
1 CD-ROM with presentation slides, audio clips and form
1 DVD with video
1 deck of Values Cards
1 Commitment Memo
1 Feedback/Evaluation Sheet
Order your Facilitator's Guide today and help your learners become effective and high-performing leaders!
Learn more about The Leadership Challenge Workshop on The Leadership Challenge Web site.
About the Authors.
Philosophy.
Introduction.
Why Use This Program?
What Participants Will Achieve.
How to Use This Facilitator's Guide.
Program Agenda.
Preparation.
Prework Assignments.
Facilitator's Preparations.
Materials List.
Workshop Content.
Orienteering.
Unit 1: Model the Way.
Unit 2: Inspire a Shared Vision.
Unit 3: Challenge the Process.
Unit 4: Enable Others to Act.
Unit 5: Encourage the Heart.
Conclusion: Committing.
A Word about Experiential Activities.
Appendix.
Prework and Handouts.
Chapter
Page
Details
Date
Print Run
CD
CD Audio Clip – Martin Luther King, Jr., "I Have a Dream" Speech
If you experience trouble hearing this audio clip, please simply close the interface or close the interface and browse the CD's content folder and double-click the "IHaveADream.mp3."
12/17/04

---