The Leadership Dimension Survey: A Download from Pfeiffer's Classic Activities for Developing Leaders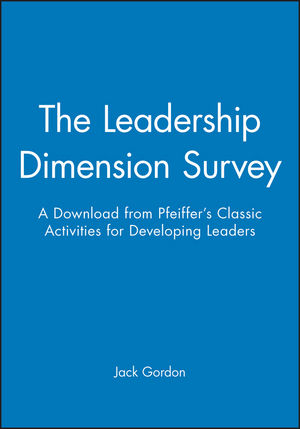 The Leadership Dimension Survey: A Download from Pfeiffer's Classic Activities for Developing Leaders
ISBN: 978-0-787-97313-1
Apr 2004, Pfeiffer
Description
This 32-item survey is based on four leadership competencies: profound knowledge, profound strategy, purposeful direction, and purposeful behaviors. These four competencies, when paired on a grid, yield four leadership dimensions or ?virtues?: constancy of purpose, congruity of activity, competency of outcome, and compatibility of values. The four competencies, as measured by the survey, allow for the generation and sustenance of trust between leaders and follower, which forms the basis for a work environment that is both productive and able to adapt to and thrive in a changing and complex business world. This tool can be used for self-discovery, leadership development, coaching in human dimensions of leadership, and other leadership applications. Includes scoring instructions, interpretation guidelines, and action planning forms. Contributed by Gerald V. Miller.



Important Information to Review Before Making This Download Purchase
Before purchasing a Pfeiffer Download, you will need Adobe® Acrobat® Reader® Software. If you do not already have it installed on your computer, you may download this free software from the Adobe Web site at Adobe.com.

All Pfeiffer Downloads that you purchase from this site will come with specific restrictions that allow Pfeiffer to protect the copyrights of its products. Just before completing your purchase, you will be prompted to accept our License Agreement. If you do not accept the parameters of this agreement, your credit card will not be charged and your order will be cancelled.