The Leadership Odyssey: A Self-Development Guide to New Skills for New Times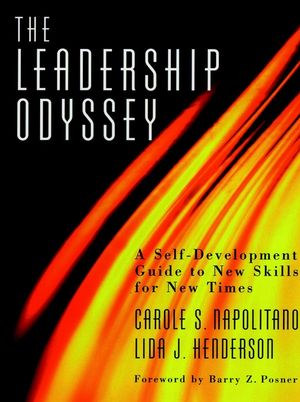 The Leadership Odyssey: A Self-Development Guide to New Skills for New Times
ISBN: 978-0-787-91011-2 November 1997 Jossey-Bass 304 Pages
Description
The Resource of Choice for Those Who Need to Lead!

New times demand new competencies. Keep yours ahead of the curve with this engaging guide for the self-directed development of cutting-edge management skills. The Leadership Odyssey outlines thirty-seven abilities and attributes that define the successful manager of the future, and shows how to master them all. Readers will benefit from a synthesis of the latest thought on the subject, plus a wealth of learning tools, self-assessment materials, and expert advice from professionals with more than twenty years of management development experience. Great for training programs, too.
Foreward by Barry Z. Posner.

THE NEW LEADERSHIP ATTRIBUTES AND SKILLS SELF-LEADERSHIP: EXPLORING VALUES AND PERSPECTIVES.

Values: Qualities of Being.

Perspectives: Habits of Mind.

Enabling Individuals and Teams to Perform.

Managing Across Boundaries.

Creating a Culture.

Anticipating the Future.

THE LEADERSHIP ODYSSEY ATTRIBUTES AND SKILLS ASSESSMENT KIT.

How to Use the Kit.

Leadership Odyssey Attributes and Skills Assessment Form.

Feedback Analysis.

THE LEADERSHIP ODYSSEY SELF-DEVELOPMENT EXERCISES.

Learning to Learn.

Guidelines for Development Exercises.

Developmental Exercises.
"Active leadership is a requirement for today's managers. This is a timely guide for managers to building their essential leadership qualities. A must read!" (Gerald Miwa, vice president, DuPont Merck Pharmaceutical Company)

"Napolitano and Henderson offer more than answers to today's challenges. They offer ways to restructure one's thinking so leaders can avoid applying old-world solutions to new-world problems." (Doug Eaton, regional vice president, State Farm Insurance Companies)

"Of all the leadership authors on the market today, Carole Napolitano and Lida HAnderson stand out among the best. Their insights will prove invaluable to both public- and private-sector organizations struggling with change." (Susanne V. Slater, associate dean for executive programs, School of Public Affairs, University of Maryland)

"Today we all struggle as managers and leaders to stay on top of our game. Leadership Odyssey recognizes all the issues and pressures of a '90s manager's life, both personal and professional, and provides the tools and thoughts to break through to new levels." (Sally Courtney, senior vice president-general merchandise manager, Hechinger)