The Learner-Centered Classroom and School: Strategies for Increasing Student Motivation and Achievement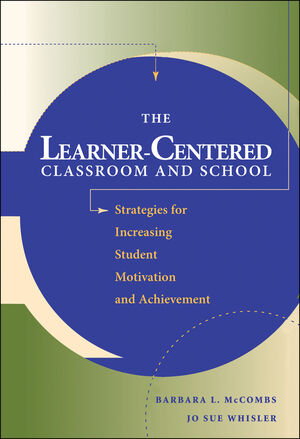 The Learner-Centered Classroom and School: Strategies for Increasing Student Motivation and Achievement
ISBN: 978-0-787-90836-2 March 1997 Jossey-Bass 288 Pages
Description
Shows educators and administrators how they can fill their classrooms with students who are eager for success and motivated to learn. The learner-centered approach focuses on designing instruction that is sensitive to the individual students needs, abilities, and interests rather than rigidly tied to the subject matter.
Table of contents
What is "Learner-Centered"?

Why Learner-Centered?

The Learner-Centered Classroom.

The Learner-Centered School System.

Making the Transition to Learner-Centered Classrooms and Schools.

An Action Plan for Ongoing Learning and Change.
Reviews
"In an era when the idea of learner-centered teaching is widely advocated but seldom practiced, there is finally a book uncommonly faithful to this approach. Barbara McCombs and Jo Sue Whisler carefully blend years of research and practice to give teachers practical guidance and to spur the educational establishment to urgently needed reform." (Raymond J. Wlodkowski, Ph.D., Motivation Expert and author of Eager to Learn and Diversity and Motivation)

"McCombs and Whisler extract powerful, practical lessons from contemporary theories of learner-centered classrooms. As imminently readable and insightful contribution to the field of education." (Martin V. Covington, professor of psychology, University of California Berkeley and author of Making the Grade and Overcoming Student Failure)

"The Learner-Centered Classroom and School gives us a vision of a truly powerful form of school reform--focusing the instructional process on the learner. McCombs and Whisler not only provide a comprehensive review of the research and theory on learning and motivation, but they spell out in practical detail how teachers can utilize this information to implement a learner-centered approach. This book has the potential of drastically altering the promise and practice of education." (Robert J. Marzano, deputy executive director for training and development, Mid-continent Regional Educational Laboratory, Aurora, Co and author of Dimensions of Learning and A Comprehensive Guide to Designing Standard' Based Districts, Schools and Classrooms)

"An especially useful tool to anyone attempting to establish a learner-centered environment by increasing student motivation and achievement." (Connie H. Yarema, assistant professor of mathematics, Northeast Louisiana University)