The Learning Alliance: Systems Thinking in Human Resource Development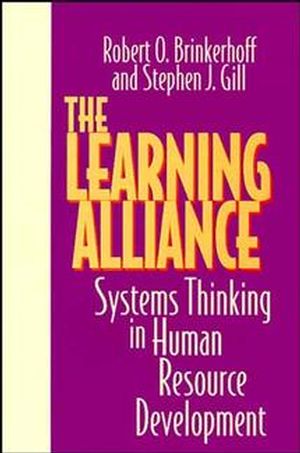 The Learning Alliance: Systems Thinking in Human Resource Development
ISBN: 978-1-555-42711-5
Aug 1994, Pfeiffer
188 pages
Description
Through numerous examples, this guide illustrates how you and your managers can work together to combine and implement systems technology with just-in-time and just-enough-learning strategies.

Step-by-step guidance and hands-on tools help you to:


* Implement each stage of the training process?from goal setting to follow-up and maintenance
* Produce and sustain measurable, consistently effective results


Plus, you'll get a comprehensive checklist for conducting an organizational training audit and getting started. Use this guide to get your organization's systems on track today!
Beyond the Classroom: A Systems Approach to Organizational Learning.

Facilitating the Learning Process: New Roles for Trainers.

Barriers to Learning: Training Myths That Get in the Way.

Impact Mapping: Creating a Shared Vision Among Stakeholders.

Getting to the Heart of the Business: Principles for Highly Effective Training.

Linking Training to Business Goals.

Maintaining Customer Focus.

Using Systems Thinking to Integrate Work and Learning.

Using Measurement and Feedback for Continuous Improvement.

Making the Paradigm Shift.
"A very useful and helpful book. Particularly valuable in highlighting how training can and should be related to organizational and business goals." (Leonard Nadler, professor emeritus, The George Washington University)

"The essential message of this bookthat training has value only when it impacts performanceis key to U.S. businesses competing in the new economic world order." (Dr. Geary Rummler, The Rummler-Brache Group)