The Learning Annex Presents Making Money in Real Estate: A Smarter Approach to Real Estate Investing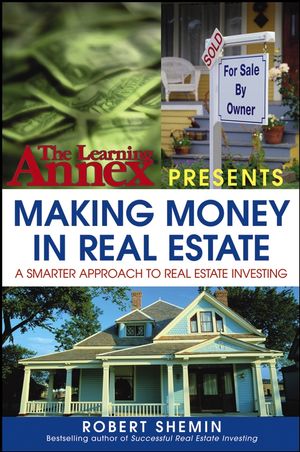 The Learning Annex Presents Making Money in Real Estate: A Smarter Approach to Real Estate Investing
ISBN: 978-0-471-69746-6
Oct 2004
272 pages
Product not available for purchase
Description
As homes continue to appreciate at favorable rates, more and more investors are viewing real estate as a safe investment alternative. How do you find expert, reliable information on breaking into—and profiting—from this booming market? Look no further. The Learning Annex Presents Making Money in Real Estate packs all the special tips from Robert Shemin's successful Learning Annex seminar into one easy-to-follow book, featuring advice on: finding the best investment opportunities, identifying qualified tenants, selecting insurance, improving cash flow, and what pitfalls to avoid. Full of sidebars and other special features, this indispensable guide re-creates the authentic seminar experience giving you the tools you need to become a successful real estate entrepreneur—all in a single reading!
Preface.
PART I: LAYING A KNOWLEDGE FOUNDATION.
Chapter 1: Getting Started Right.
Chapter 2: Why Real Estate Is the Best Wealth Builder in the Universe.
Chapter 3: Real Estate and You: The Personal Component of Personal Wealth.
Chapter 4: All Types of Real Estate: Advantages and Disadvantages.
PART II: PROPERTIES AND PROFITS.
Chapter 5: Finding Great Deals.
Chapter 6: Multiple Real Estate Profit Centers.
Chapter 7: The Whole Story on Wholesaling.
Chapter 8: Lease Options: The Real Estate Investor's Best-Kept Secret.
PART III: EXPANDING YOUR KNOWLEDGE BASE.
Chapter 9: Learning to Evaluate and Analyze Every Detail in 90 Minutes or Less.
Chapter 10: Learning to Negotiate: Getting More of What You Want and Need from Any Deal.
Chapter 11: Learning Contract Basics.
Chapter 12: Learning How to Find Funding Sources and Manage Your Credit.
Chapter 13: Learning to Protect Yourself, Your Properties, and Your Wealth.
Chapter 14: Ensuring Your Success in Real Estate.
Appendix: Tools for Running Your Real Estate Investment Business.
Index.