The Learning Society from the Perspective of Governmentality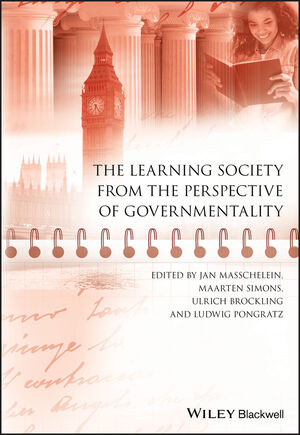 The Learning Society from the Perspective of Governmentality
ISBN: 978-1-405-15602-8 March 2007 Wiley-Blackwell 184 Pages
Description
This collection of essays considers a variety of educational ideas and programs from the perspective of governmentality, integrating conceptual and theoretical insights and empirical investigation of policy documents, and government technologies.



Considers different educational ideas of enlightenment, creativity, participation, inclusion, learning, and critique

Offers an overview of French philosopher Michel Foucault's theory on governmentality and how his ideas apply to current developments in society and education

Investigates the intrinsic relationship between intellectual and practical educational technologies

A study of how educational practice and educational theory have played a constitutive role in practices of subjectivity which are crucial to 'learning societies'
Editorial: Michael A. Peters.
The Learning Society from the Perspective of Governmentality: Jan Masschelein, Maarten Simons, Ulrich Bröckling and Ludwig Pongratz.
The Learning Society and Governmentality: An introduction: Jan Masschelein and Maarten Simons.
The Learning Society, the Unfinished Cosmopolitan, and Governing Education, Public Health and Crime Prevention at the Beginning of the Twenty-First Century: Thomas Popkewitz, Ulf Olsson and Kenneth Petersson.
From Education to Lifelong Learning: The emerging regime of learning in the European Union: Anna Tuschling and Christoph Engemann.
Voluntary Self-Control: Education reform as a governmental strategy: Ludwig Pongratz.
Education or Service? Remarks on teaching and learning in the Entrepreneurial university: Andrea Liesner.
Participation for Free. Exploring (limits of) participatory government: Kerlyn Quaghebeur.
On Creativity: A brainstorming session: Ulrich Bröckling.
Learning as Investment: Notes on governmentality and biopolitics: Maarten Simons.
The Power of Power. Questions to Foucault: Norbert Ricken.
Experience and the Limits of Governmentality: Jan Masschelein.
Notes on Contributors.
Index.


Considers different educational ideas of enlightenment, creativity, participation, inclusion, learning, and critique

Offers an overview of French philosopher Michel Foucault's theory on governmentality and how his ideas apply to current developments in society and education

Investigates the intrinsic relationship between intellectual and practical educational technologies

A study of how educational practice and educational theory have played a constitutive role in practices of subjectivity which are crucial to 'learning societies'