The Life of Geoffrey Chaucer: A Critical Biography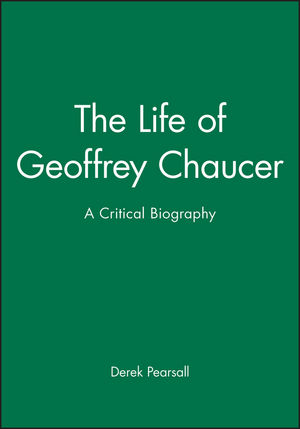 The Life of Geoffrey Chaucer: A Critical Biography
ISBN: 978-1-557-86665-3
Jan 1995, Wiley-Blackwell
380 pages
Description
This important new critical biography traces in carefully considered detail what is known of Geoffrey Chaucer's personal life while exploring the fascinating relationship between the man of affairs, who made so many 'improvisations and accommodations' to ensure his own survival, and the poet. A major reexamination of England's greatest narrative poet, it is supplemented with reproductions of Chaucer portraits and other illustrations, including maps of medieval England.
List of figures and illustrations.
List of Abbreviations.
Introduction: Writing a life of Chaucer.
1. Beginnings (c.1340-1360).
2. Early Career (The 1360s).
3. Advances (The 1370s).
4. Fame (1380-1386).
5. Reversals, New Beginnings (1386-1391).
6. Renewal (The 1390s).
Epilogue.
Appendix I The Chaucer Portraits.
Notes.
List of Short Titles and Bibliography.
Index.
"Few can write so interestingly, fewer Chaucerians."
Notes and Queries
"In this rich and comprehensive book, Professor Pearsall combines his expert knowledge of modern Chaucer scholarship and criticism with a refreshing directness in expressing his own opinions. He sees the same `aloof and uncomitted' spirit in Chaucer's poems as in his career; and it is hard to believe that there will ever be a more coherent and convincing account of the life and works of this elusive poet." J. A. Burrow
"... highly readable, built on a sound scholarly base with wit and judgment...." Derek Brewer
"... it is the merit of Pearsall's book that he returns England's first true poet to the muddle, viciousness and disorder of 14th-century London. He insists continually that we divest ourselves of modern preoccupations... in order to see Chaucer as he was." Peter Ackroyd, The Times
"An excellent account." Peter Ackroyd The Times "The life-records are expertly interpreted in terms of social history. The works are placed in their generic frames, and discussed in probable order of composition through the life. The criticism, if at times it has to be summary, is sturdy, candid and well-judged. The scholarship is masterly, that is, unobtrusive, and the lively exposition free from old academic vices, and from modern ones." English
"Rife with insights into both the poet's life and his work, this superb book can introduce undergraduates to Chaucer and yet also provide much for seasoned critics and scholars to ponder and debate. A fine reference for the life, times, and works. A must for all libraries." Choice
"Is a pleasure to read. An excellent book by a distinguished scholar." Notes and Queries
"Pearsall has solved, with elegance and precision, the problem of writing on things which have not only often been considered before, but also frequently discussed." Buchbesprechungen
"Pearsall's writing is marked by its firm reasonableness and humour and a confident awareness of contemporary critical thought, and his studies of Chaucer's literary experiments and enquiries as he turned from one visionary poem to another form some of the most stimulating pages of this book." Southern Humanities Review
"Often hilarious, by turns, enlightening and provocative. It can be read and appreciated on several levels, as a detailed history of the period, as textual history, and as literary criticism as well as biography." Modern Law Review
"Any book-length biography of Chaucer has to be the product of a highly creative imagination, for very little is known about the poets life. This one, highly readable, is fleshed out with a little history and a lot of intelligent and perceptive literary criticism." Sunday Telegraph
"Excellent on Chaucer both as a creative writer and a public administrator." The Observer
"It is hard to imagine how Derek Pearsall's fine 'critical biography' of Chaucer could be superseded. It will, however, enrage most people some of the time, and some people most of the time; but all for the right reasons. Its originality lies in its refusal to speculate. Pearsall refuses to join the game of invention. Nor will he refashion Chaucer to his own preferred image... this book is a delight to read." Review of English Studies
* The first major biography of Chaucer, the founder of modern English literature.
* The first volume in a major series.
* A very famous author and subject.
* Contains previously unpublished material.