The Life of Robert Browning: A Critical Biography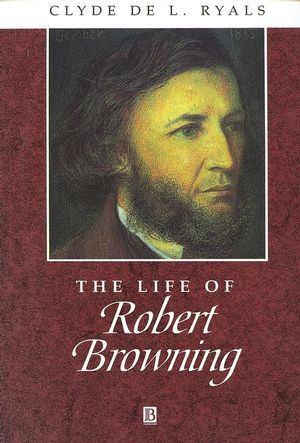 The Life of Robert Browning: A Critical Biography
ISBN: 978-0-631-20093-2 April 1996 Wiley-Blackwell 304 Pages
Description
Robert Browning is customarily regarded as a dramatic poet whose works are separate and distinct from himself. This biography proposes a different view of the poet and his poems. Every one of his works is regarded in the same way that Browning himself regarded it; as a performance in which the author plays a part, as producer, presenter, or actor, or sometimes all three; and each is examined as part of a constantly revised script entitled Presenting Robert Browning . To Browning life is more than art, but art is teh best way of dealing with what life is all about.
Table of contents
List of Illustrations.
Preface.
Abbreviations.
1. Growing up in Camberwell.
2. Into the World.
3. Taking Stock: Sordello.
4. Bells and Pomegranates.
5. Courtship and the Early Years of Marriage.
6. At Home and Abroad, 1850-54.
7. Men and Women.
8. The Last Years Together.
9. In London Again.
10. The Ring and the Book.
11. Memory and Desire.
12. Redefining Poetry.
13. Fame is the Spur.
14. An Idyllic Interlude.
15. Looking Backwards and Forwards:The Parleyings.
16. Death in Venice and Burial in London.
Epilogue.
Notes.
Selected Bibliography.
Index.
Reviews
"The best introduction to the entirety of Browning's career. The most significant aspects of life, writing, theme, development, contemporary reception, and 20th-century criticism are presented with great clarity and efficiency. Ryals's mastery of his subject is unrivaled."
Choice.
"Only a handful of scholars could have written this book, and it is surely now the best introduction to the entirely of Browning's career... Ryals's mastery of his subject is... unrivalled... to be recommended as the best first book to read on Browning." Choice
"This biography, more successfully than any that has preceded it, achieves a fine balance between its sensitive commentary on the poet's life and the poet's art, and it further illuminates these subjects by locating them in a rich and wide-ranging cultural and historical context."Nineteenth-Century Literature.
"... a thoroughly admirable contribution - an introduction for the general reader, at a modest price, of the corpus fo Browning, described and summarized and commented upon in such a way as to provoke reading of the texts to verify the riches the critic announces he has found" John Stasny, Victorian Poetry.

"Clyde de L. Ryals has published two distinguished studies of Browning's works, and his knowledge of the field is second to none. ... Eminently readable, Ryal's study covers a huge amount of ground, offeringclear and reliable summaries of the poet's works and days. This kind of book is obviously much more useful to the current generation of students than the earlier handbooks compiled by Alexandra Orr and William." Victorian Studies
What's New
* Only book published in the last 50 years that treats chronologically and at length the whole Browning corpus.
* Questions the idea that Browning was an objective, dramatic poet, whose works are distinct and separate from himself.
* Relates Browning the poet to Browning the man.