The Life of Samuel Taylor Coleridge: A Critical Biography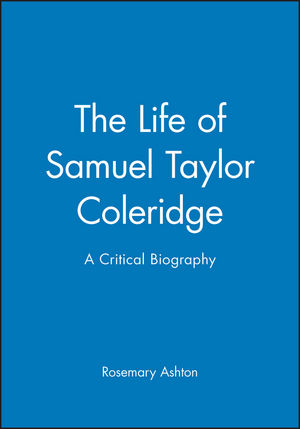 The Life of Samuel Taylor Coleridge: A Critical Biography
ISBN: 978-0-631-18746-2 January 1996 Wiley-Blackwell 488 Pages
Description
Rosemary Ashton explores the many facets of Samuel Taylor Coleridge's complex personality, by turns poet, critic, thinker, enchanting companion, feckless husband, fabled conversationalist and guilt-ridden opium addict.
Table of contents
List of Illustrations.
Acknowledgements.
Introduction.
Part I:1772-1803:.
1. Inspired Charity Boy 1772-1791.
2. Cambridge and Pantisocracy 1791-1794.
3. Bristol and Marriage 1795-1796.
4. Nether Stowey and 'Kubla Khan' 1796-1797.
5. The Ancient Mariner.
6. To Germany and Back 1798-1800.
7. Greta Hall 1800-1802.
Part II: 1803-1834:.
8. In Search of Health: To Malta and Back: 1803-1806.
9. Friendships and The Friend 1807-1810.
10. Life-in-Death: London 1810-1814.
11. Risen Again : Biographia Literaria 1814-1817.
12. Highgate 1818-1821.
13. Coleridge the Sage: Aids to Reflection 1821-1825.
14. Progress and Permanence 1826-1829.
15. Last Years: Church and the State 1830-1834.
Notes.
Bibliography.
Index.
Reviews
"A fine addition to the biographical attempt to catch the complex and elusive figure of Coleridge. The volume is notable for its aliveness, its signal success in giving us a living breathing human being."
Professor Thomas McFarland, Princeton University
"This book provides the student or general reader with an excellent critical introduction to Coleridge's life and work. Ashton has a gift for elucidating difficult concepts in clear and straightforward language. I can think of no better single volume Coleridge biography." Duncan Wu, University of Glasgow
"This is a stimulating study of a man of many obvious talents." Alan Bold, The Herald
"Ashton writes lucidly, and the book will be accessible to the layman and student as well as useful to the card-carrying Coleridge scholar; it is good, at last, to have a biography one can recommend so highly." Seamus Perry, Times Literary Supplement
"Rosemary Ashton sets store by telling the sheer story. As vitally documented narrative, altogether free from melodrama. The Life of Samuel Taylor Coleridge is a deft feat." Christopher Dicks, London Quarterly
"Here is a new biography of Coleridge that is likely to become the standard life of the poet. Rosmary Ashton's The Life of Sammuel Taylor Coleridge: A critical Biography offers a comprehensive and judicious survey of the poet's life and writings. John Strachen University of Sunderland
" Professor Ashton identifies the tangle of abilities and pursuits that ranged from poetry to criticism philosophy to politics, opium-induced imagination to sparkling conversation."
Features
A major account of the life and work of Samuel Taylor Coleridge
Author an authority on Anglo-German cultural connections in the 19th century - so this book is particularly strong and very accessible too on the German philosophical and literary background.