The Lifeworld of Leadership: Creating Culture, Community, and Personal Meaning in Our Schools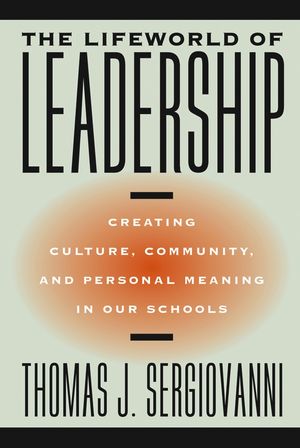 The Lifeworld of Leadership: Creating Culture, Community, and Personal Meaning in Our Schools
ISBN: 978-0-787-97277-6 August 1999 Jossey-Bass 240 Pages
Description
"Sergiovanni's book gives life and meaning to the words 'lifeworld' and 'systemsworld'--bringing a new and insightful perspective to the discourse on school reform--and challenges school leaders to gain a more holistic view of students and interaction in the teaching-learning process."--Gerald N. Tirozzi, executive director, The National Association of Secondary School Principals

"Once again, Sergiovanni has used his remarkable and unique insight to bring clarity to a major challenge of current leadership--the use of standards. He has managed to contextualize the issue of standards, through looking at the 'lifeworld' of schools, in a way no one else has. This is a fresh and thought-provoking take on a subject school leaders must understand."--Paul D. Houston, executive director, American Association of School Administrators

This inspiring book calls for leaders who act according to the unique culture, values, and needs of their schools. Tom Sergiovanni examines why this "lifeworld" is so vital to school success and shows how local leadership can make the difference in creating healthy, rigorous schools. He explores the crucial link between school character and school improvement. By building institutional character at the local level, principals, superintendents, and policymakers can not only protect the lifeworld of their schools but also craft an educational system based on layered loyalties and shared accountability.
The Lifeworld at the Center.
School Character, School Effectiveness.
Competence and Caring in Action.
Community in a Diverse Society.
Layered Standards and Shared Accountability.
Whole Child, Whole School, Holistic Assessment.
Teachers: Keys to School Improvement.
Deep Change and the Power of Localism.
Leadership, Democracy, and the Lifeworld.
Provides specific and compelling examples of local school leadership at its best.
Proposes initiatives that invite all educational stakeholders to lead without compromising the legitimate interests of their schools and communities.
 Written by a leader in the field of education and community Thomas Sergiovanni.