The Limits of Educational Assessment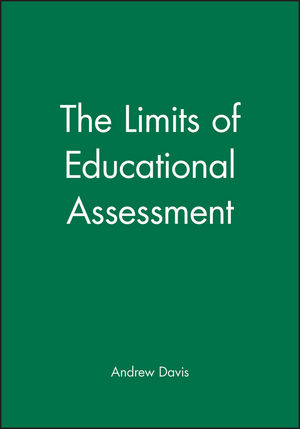 The Limits of Educational Assessment
ISBN: 978-0-631-21020-7 January 1999 Wiley-Blackwell 192 Pages
Description
Education is increasingly expected to support the flourishing of competitive industrial economies. It is held to account by means of assessment in an attempt to ensure that it delivers the goods. This book argues that assessment cannot in principle detect much of the real learning required in this scenario.
Table of contents
Part I: The Need for a Philosophical Treatment of Assessment.
Why philosophy?.
The Social and political context.
Why assess?.
Summary of the argument to follow.
Part II: Accountability and the Economy.
Accountability.
Assessment, accountability and values.
Accountability, influencing teacher behaviour and pupil attainment.
What does the industrial economy need? The mythology of literacy and numeracy.
Using and applying.
'Rich' or 'proper' knowledge and understanding.
Literacy, numeracy and proper knowledge.
Conclusion.
Part III: Understanding and Holism.
Property holism.
Holism about propersitions and content.
Meaning holism.
Belief and concept holisms.
Anthropological holism.
Richard Skemp's cognitive maps, and the relational/instrumental understanding distinction.
Conclusion.
Part IV: Belief and Language-based Assessment.
Belief Theory.
Part V: Implications for Assessment.
Written assessment.
Making judgements about rich cognitive achievement on the basis of limited samples of behaviour.
Conclusion.
Part VI: Transfer, Abilities and Rules.
Psychometrics, trait discourse and transfer.
Induction, powers and dispositions.
Vagueness and fuzzy borders.
Classification: substances and their dispositional properties.
Situated cognition theory.
Abilities, competencies, traits and skills.
Psychometrics and traits.
Mathematical performances and similarity judgements.
Is arithmetic a special case?.
Wittgenstein rule-following considerations and a possible sceptical argument.
Rules revisited.
Algorithms.
What follows from scepticism about fine-grained transfer of cognitive achievement?.
Part VII: Matching.
Bennett and Desforges on matching.
Matching (1) for the aquisition of new declarative knowledge.
Matching (1) for the aquisition of new abilities or skills.
Formative assessment, matching and assumptions of linearity.
Implications for the organisation of learning.
Part VIII: Reliability, Validity and Criterion-referencing.
The common language: obtaining reliability at the expense of validity.
More about validity.
Rich integrated competencies and the abilities of student teachers.
Part IX: Is there a Future for Assessment and Accountability?.
Possibilities for schooling not dominated by instrumental accountability.
Teachers as technicians?.
Accountability and 'standards'?.
A future for assessment.
Index.
Features
* Rooted in contemporary educational policy developments, the book draws on analytical philosophy to make fundamental criticisms of educational assessment.