The Linux Process Manager: The internals of scheduling, interrupts and signals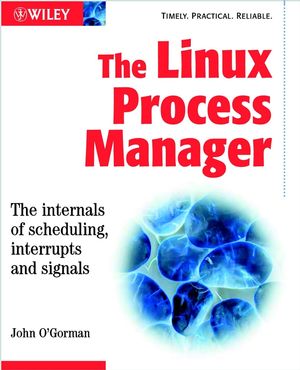 The Linux Process Manager: The internals of scheduling, interrupts and signals
ISBN: 978-0-470-84771-8
Jun 2003
846 pages
Product not available for purchase
Description
An ideal resource to understand the internals, line by line
Looks at architecture dependent code for PC version
Addresses process creation, timers, software and hardware interrupts, signals, tracing processes, and the virtual 8086 mode
Preface.
Editor's Note; In Memoriam.
Background and Overview.
Introduction.
Representing processes in Linux.
Organising the task structures.
Wait Queues.
Mutual exclusion with locks.
Mutual exclusion with waiting.
Scheduling.
Process creation.
Process termination.
Interrupting Linux.
Exception handlers.
Hardware interrupts.
Advanced programmable interrupt controllers.
The input-output advanced programmable interrupt controller (the IO APIC).
The timer interrupt.
Software interrupts.
The signal mechanism.
Posting and delivering signals.
Executing a signal handler.
Capabilities.
Personalities and execution domains.
Tracing processes.
Process accounting.
Virtual 8086 mode.
Index.
"…lives up to Wiley's ideal of providing timely, practical, and reliable texts…such an interesting read…a classic is born…" (Linux Format, August 2003)
"…there is no other book I would recommend over this one for the Linux programmer wanting to learn about this particular topic…" (M2 Best Books, October 03)