The Listening Leader: Creating the Conditions for Equitable School Transformation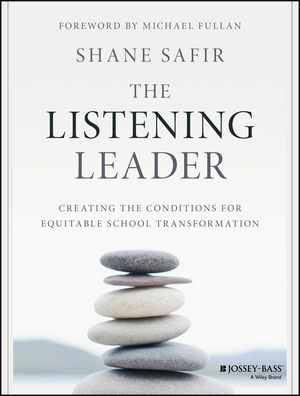 The Listening Leader: Creating the Conditions for Equitable School Transformation
ISBN: 978-1-119-18634-2 April 2017 Jossey-Bass 368 Pages
Download Product Flyer
Download Product Flyer
Download Product Flyer is to download PDF in new tab. This is a dummy description. Download Product Flyer is to download PDF in new tab. This is a dummy description. Download Product Flyer is to download PDF in new tab. This is a dummy description. Download Product Flyer is to download PDF in new tab. This is a dummy description.
Description
LISTENING . . . THE KEY TO BECOMING A TRANSFORMATIVE SCHOOL LEADER
The Listening Leader is a practical guide that will inspire school, district, and teacher leaders to make substantive change and increase equitable student outcomes. Rooted in the values of equity, relationships, and listening, this luminous book helps reimagine what is possible in education today. Drawing from more than twenty years of experience in public schools, Shane Safir incorporates hands-on strategies and powerful stories to show us how to leverage one of the most vital tools of leadership: listening. As a Listening Leader you'll feel more confident in these core competencies:
Cultivating relationships with stakeholders
Addressing equity challenges in your organization
Gathering student, staff, and parent perspectives as rich data on improvement
Fostering a thriving culture of collaboration and innovation
The Listening Leader offers a much-needed leadership model to transform every facet of school life, and most importantly, to shape our schools into equitable places of learning. As Michael Fullan writes in the Foreword, "Read it, act on it, and reap the benefits for all."
"This book is a 'must have' for any leader trying to move the needle on equity. Drawing from her lived experience as a principal and leadership coach, Safir offers stories that give insight and practical strategies that get results. It's one you'll keep coming back to."
—Zaretta Hammond, author of Culturally Responsive Teaching and the Brain
" The Listening Leader immediately changed the way I interact with students, teachers, families and community members."
—Tamara Friedman, assistant principal, Berkeley High School
"Shane Safir has written a brilliant book. As engaging as it is informative and as revelatory as it is relevant. It is a must-read for school leaders and those who aspire to lead."
—Chris Emdin, associate professor of science education, Teachers College, Columbia University; author of For White Folks Who Teach In the Hood and the Rest of Ya'll too
Table of contents
LIST OF FIGURES, TABLES, AND EXHIBITS XIII
FOREWORD XVII
PREFACE XXI
Introduction XXV
Equitable School Transformation Is Possible • Leader]ful Schools, Not Leader]thin • Primary Audiences for This Book • The Listening Leader Map • How to Read This Book • Anonymity and Pseudonyms
Chapter 1: The Transformative Power of Listening 1
Learning to Listen • What We've Inherited • A Few Core Beliefs • Key Challenge 1: The Persistence of Inequity • Key Challenge 2: Integrity in the Face of Pressure • Key Challenge 3: Dealing With Trauma • Key Challenge 4: Disconnected Data • Becoming a Listening Leader • A Word on Mindfulness • The Arts Academy Revisited
PART ONE: AWARENESS
What do I need to know and understand to become a Listening Leader?
Chapter 2: The Core Tenets of Listening Leadership 31
The Leader Who Wanted to Write People Up • Listening Is Brain-Savvy • The Neighborhoods of the Brain • Tenet 1: Our Brains Are Wired for Survival First • Tenet 2: Our Brains React to Survival Threats Through Fight, Flight, or "Tend-and-Befriend" • Tenet 3: Social Threats Signal Survival Threats to Our Brains • Tenet 4: Every Brain Grows in the Right Conditions • Tenet 5: Organizations Have Core Memories
Chapter 3: Listening for Equity 55
The Fragility of Trust Across Difference • Tuning in to Structural Racism • Tuning in to Unconscious Bias • Tuning in to Cultural Difference • Lessons Learned: Joy and Wendy
Chapter 4: Getting Ready to Listen 79
Listening Below the Green Line • No Shortcut to Trust • Bids and Betrayals • Understand Your Living System • Mindful Listening • The Problem of Rumination • A Seamless Transition
PART TWO: RELATIONAL CAPITAL
How do I build the interpersonal currency needed to support and develop adult learners?
Chapter 5: Practicing Deep Listening 105
The Fallout of Failing to Listen • Relational Capital • Two Types of Listening: Deep and Strategic • Principles of Deep Listening • Deep Listening Stance 1: Attention to Nonverbal Cues • Deep Listening Stance 2: Mature Empathy • Deep Listening Stance 3: Affirmation
Chapter 6: Practicing Strategic Listening 127
The Impact of the Right Question • Building Capacity Through Listening • Principles of Strategic Listening • Strategic Listening Stance 1: An Orientation to Vision • Strategic Listening Stance 2: Reflective Inquiry • Strategic Listening Stance 3: A Bias Toward Action • Integrating the Six Stances • Seeds of Transformation
Chapter 7: Listening to Parents 146
When Things Fall Apart • Navigating Difference With Parents • Flipping the Script Between Parents and Educators • Five Ways to Listen to Parents • Jackie's Reflections
Chapter 8: Listening to Students 166
Listening to Students Tell the Real Story—Even When It's Hard to Hear • Discarding Well]Worn Scripts • Five Ways to Listen to Students • Listening and Democracy
PART THREE: COMPLEX CHANGE
How do I diagnose and navigate the challenges I face as a leader?
Chapter 9: Influencing Complex Change 189
The Listening Leader's Landscape • Leadership in a Living System • Diagnose Your Problems and Challenges • Six Steps to Influence Complex Change • Shaping the Path
Chapter 10: Leveraging Listening Routines 214
A Staff Meeting with 100% Engagement • Grown]Ups Need Routines Too • First, Take Your Team's Temperature • Next, Design Humanizing Routines • Revisiting the Engaged Staff Meeting
Chapter 11: Growing a Listening Culture 238
A High School Network in Transition • From Hero to Host • The Four Seasons of a Listening Culture • "Set the Table" with Annual Retreats • Listening Campaigns • Learning Leader Chats • Team One]on]Ones • Safe]to]Learn Inquiry • Transforming a Culture
Chapter 12: Listening for Liberation 259
Conversation by Conversation • Building a Movement • The Courage to Listen
APPENDIX A: LISTENING LEADERSHIP RUBRIC 263
APPENDIX B: THE SIX STANCES OF A LISTENING LEADER 271
APPENDIX C: THE INSTRUCTIONAL CONVERSATION PLANNING TOOL 274
APPENDIX D: ADDITIONAL RESOURCES FOR LISTENING TO PARENTS 275
APPENDIX E: ADDITIONAL RESOURCES FOR LISTENING TO STUDENTS 278
APPENDIX F: TELLING THE CURRENT-STATE STORY TOOL 282
APPENDIX G: TOOLS AND FACILITATION STEPS FOR LISTENING ROUTINES 283
APPENDIX H: TOOLS FOR GROWING A LISTENING CULTURE 296
GLOSSARY 304
ACKNOWLEDGMENTS 312
ABOUT THE AUTHOR 315
INDEX 317