The Literature Student's Survival Kit: What Every Reader Needs to Know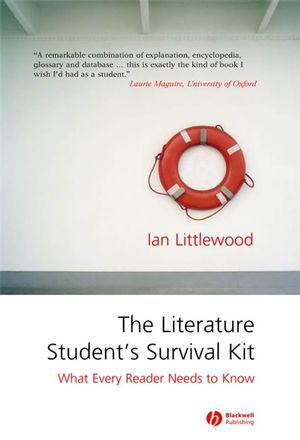 The Literature Student's Survival Kit: What Every Reader Needs to Know
ISBN: 978-1-405-12284-9
Feb 2006, Wiley-Blackwell
316 pages
Description
Who was Jezebel? What was the Wooden Horse? When was the Enlightenment? Who were the Luddites? And what is blank verse? The Literature Student's Survival Kit gives students about to embark on a literature degree all the background information they need to stay afloat.

Designed to help literature students stay afloat in their studies

Brings together the biblical, classical, historical and academic information that literature students need

Provides an overview of the Bible, its books, characters, episodes and places.

Contains a guide to classical mythology

Features timelines that situate literary figures in relation to historical events and key social, cultural and linguistic changes

Presents essential information on individuals, events, movements, and concepts that had an impact on the literature of each period

Includes glossaries of literary and critical terms, and a list of key literary critics

Offers advice on how to write essays and how to avoid common linguistic and stylistic errors

Enables students to approach their studies with self-assurance.
Foreword.
Acknowledgments.
1. Surviving the Bible.
Books of the Bible.
Historical Framework.
The Bible in English.
Dictionary.
2. Surviving the Classics.
Dictionary.
3. Surviving History.
Timelines.
Dictionary of Background Information.
The Roman Conquest to the Wars of the Roses.
The Tudors to the Commonwealth.
The Restoration to the American Revoluation.
The Romantics and the Nineteenth Century.
The Twentieth Century.
Fifty Dates.
English Monarchs.
4. Surviving the Academy.
Reading about Literature.
Literary Terms.
Poetry: Poetic Forms, Rhyme, Meter.
Roman Numerals.
The Critical Background.
Writing about Literature.
Survival-level Punctuation.
A Survivor's Guide to Grammatical Terms.
A Survivor's Guide to Fifty Common Errors.
A Survivor's Guide to Writing Essays.
Exams.
Index
"What do Shadrach, Meshach, Abdegno and the Private of the Buffs have in common? What are Tabitha or Hecuba for you? When did the Porteous riots begin, when was the hearth tax abandoned? Littlewood's
Survival Kit
provides all the answers to similar vexing questions, queries that students and teachers alike won't have time to "google" accurately. This is the best and most up-to-date compendium of essential facts drawn from Biblical lore, universal history, literary chronologies, lists of tropes and poetic movements...a desperately needed survival kit for those who face our current mixture of information overload and short term memory."
J.M. Rabaté, University of Pennsylvania
<!--end-->
"The Literature Student's Survival Kit is a remarkably useful collection of information of sure value to many students of literature. Written in a measured way, it presents with both clarity and grace a wide but manageable range of knowledge--historical, political, cultural, biographical, mythological, theological--that will help open up the textures of literary texts, past and present, for readers without that information already at their fingertips. Littlewood's text offers the kind of knowledge--accessibly laid out, accessibly written--that a reader so often needs to know in order to enable informed and sensitive literary interpretation. A book not only valuable but enjoyable too."
Francis O'Gorman, University of Leeds

"This is exactly the kind of book I wish I'd had as a student. It introduces and explains the unfamiliar: the Bible, classics, history. A remarkable combination of explanation, encyclopedia, glossary and database--an indispensable vade mecum. It contains fascinating insights as well as useful facts. How can a reference work be so readable?"
Laurie Maguire, University of Oxford

"This really is a remarkably useful little book."
Reference Reviews


A one-stop reference book for students embarking upon a literature degree, designed to help them stay afloat in their studies

Brings together the biblical, classical, historical and academic information that literature students need

Provides an overview of the Bible, its books, characters, episodes and places

Contains a guide to classical mythology

Features timelines that situate literary figures in relation to historical events and key social, cultural and linguistic changes

Presents essential information on individuals, events, movements, and concepts that had an impact on the literature of each period

Includes glossaries of literary and critical terms, and a list of key literary critics

Offers advice on how to write essays and how to avoid common linguistic and stylistic errors