The Little Book That Builds Wealth: The Knockout Formula for Finding Great Investments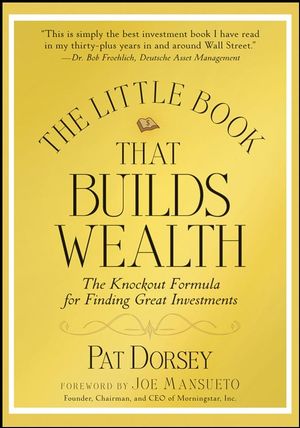 The Little Book That Builds Wealth: The Knockout Formula for Finding Great Investments
ISBN: 978-1-118-04539-8
Dec 2010
224 pages
Description
In The Little Book That Builds Wealth, author Pat Dorsey—the Director of Equity Research for leading independent investment research provider Morningstar, Inc.—reveals why competitive advantages, or economic moats, are such strong indicators of great long-term investments and examines four of their most common sources: intangible assets, cost advantages, customer-switching costs, and network economics. Along the way, he skillfully outlines this proven approach and reveals how you can effectively apply it to your own investment endeavors.
Foreword.
Acknowledgments.
Introduction. The Game Plan.
Chapter 1. Economic Moats.
Chapter 2. Mistaken Moats
Chapter 3. Intangible Assets
Chapter 4. Switching Costs.
Chapter 5. The Network Effect.
Chapter 6. Cost Advantages.
Chapter 7. The Size Advantage.
Chapter 8. Eroding Moats.
Chapter 9. Finding Moats.
Chapter 10. The Big Boss.
Chapter 11. Where The Rubber Meets The Road.
Chapter 12. What's A Moat Worth.
Chapter 13. Tools For Valuation.
Chapter 14. When To Sell.
Conclusion. More Than Numbers.
"A detailed exploration of Warren Buffet's "wide economic moat" concept - how to find companies with a true in-built competitive advantage." (
Financial Times
, Tues 26th February)
"Pat Dorsey...discusses in an easy to read style why economic moats are such great indicators of long term performance." (Pensions World, October 2008)