The Little Book of Bull Moves, Updated and Expanded: How to Keep Your Portfolio Up When the Market Is Up, Down, or Sideways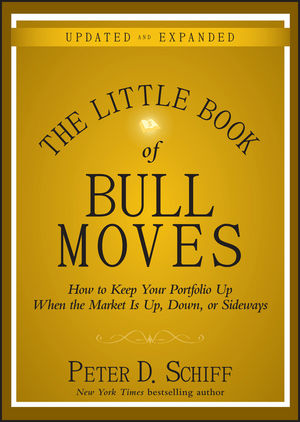 The Little Book of Bull Moves, Updated and Expanded: How to Keep Your Portfolio Up When the Market Is Up, Down, or Sideways
ISBN: 978-0-470-64399-0
Aug 2010
320 pages
Description
In The Little Book of Bull Moves, popular author and economic advisor, Peter Schiff, takes a new look at America's bull markets of the 1920's, 1960's, and 1990's, and the bear markets that followed. Analyzing similarities and differences from both an economic and political perspective, Schiff discusses investment strategies that worked then and explains how those same conservative approaches to investing can be applied in today's market.
Provides detailed advice on the techniques and strategies that can help investors maintain and even build wealth now and in the turbulent times that lie just ahead
Filled with insightful commentary, inventive metaphors, and prescriptive advice
Other titles by Schiff: Crash Proof: How to Profit From the Coming Economic Collapse, and The Little Book of Bull Moves in Bear Markets
Written by a seasoned Wall Street prognosticator, The Little Book of Bull Moves shows readers how to make money under adverse market conditions by using conservative, nontraditional investment strategies.
Foreword
by Marc Faber
.
Prologue to the 2010 Edition.
Author's Note.
Introduction.
Chapter One: Let's Do the Time Warp Again.
Chapter Two: Saving Your Assets.
Chapter Three: Beware of False Prophets.
Chapter Four: Of Babies and Bathwater.
Chapter Five: Hot Stuff.
Chapter Six: The Ring in the Bull's Nose.
Chapter Seven: Weathering the Storm.
Chapter Eight: Favorite Nations.
Chapter Nine: If You Want to Roll the Dice.
Chapter Ten: To Infinity and Beyond.
Chapter Eleven: A Decade of Frugality.
Chapter Twelve: Pack Your Bags.
Chapter Thirteen: The Light at the End of the Tunnel.