The Little Book of Business Wisdom: Rules of Success from More Than 50 Business Legends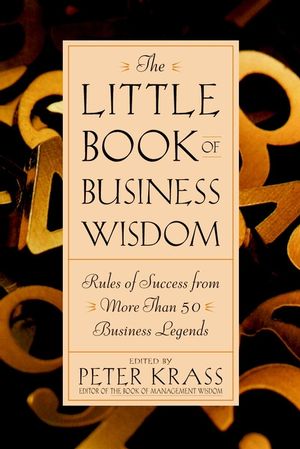 The Little Book of Business Wisdom: Rules of Success from More Than 50 Business Legends
ISBN: 978-0-471-36979-0
Oct 2000
256 pages
Description
Pearls from The LITTLE BOOK OF BUSINESS WISDOM

""The man who starts out simply with the idea of getting rich won't succeed; you must have a larger ambition.""-JOHN D. ROCKEFELLER

""Think about the customer, not the competition: Competitors represent your industry's past, as, over the years, collective habits become ingrained. Customers are your future, representing new opportunities, ideas, and avenues for growth.""-MICHAEL S. DELL

""You've got to be out in front of crowds, repeating yourself over and over again, never changing your message no matter how much it bores you."" -JACK WELCH

""Always break orders to save owners. There never was a great character who did not sometimes smash the routine regulations and make new ones for himself."" -ANDREW CARNEGIE

""Don't speak up at a meeting until you have something meaningful to contribute. Talking to attract attention may call attention to your blank spots."" -JO FOXWORTH

""Make 'em feel guilty when they do nothing. One thing I can't stand is people who don't act on a situation. I'd rather that people make mistakes than sit around and not do something.""-DAVE THOMAS
Partial table of contents:

MANAGEMENT PRINCIPLES.

Lee Iacocca: My Little Commandments of Management.

Bill Gates: New Rules for the Age of Information.

LEADERSHIP SECRETS.

T. Boone Pickens: The Art of Leadership.

John F. Welch, Jr.: Leading a Revolution.

QUALITIES FOR PERSONAL ADVANCEMENT.

David Ogilvy: Qualities I Admire.

Andrew Carnegie: The Road to Business Success.

John H. Johnson: How to Sell Anything in Five Minutes or Less.

WALL STREET WIZARDS.

Warren E. Buffett: Investment Principles.

Sir John M. Templeton: Time-Tested Maxims of the Templeton Touch.

Bernard M. Baruch: My Investment Philosophy.

GUNSLINGERS AND THE ENTREPRENEURIAL DRIVE.

J. Paul Getty: You Can Make a Million Today.

E. W. Scripps: Some Outlandish Rules for Making Money.

THE GURUS.

Warren Bennis: Five Key Skills.

Dale Carnegie: Be a Leader.

BUILDERS OF CULTURE.

Ben Cohen and Jerry Greenfield: Our Aspirations.

Howard M. Schultz: Starbucks Mission Statement.

MAXIMS FOR LIFE.

Al Neuharth: An S.O.B.'s Ten Secrets to Success.

Kemmons Wilson: Twenty Tips for Success.

Acknowledgments.

Credits and Sources.

Indexes.
The Cutting Edge
The most successful business people are often also the busiest, acknowledges Peter Krass, a regular contributor to Investor's Business Daily and editor of the Book of Wisdom series. Therefore, he offers The Little book of Business Wisdom: Rules of Success from More Than 50 Business Legends. The advice is varied and often contradictory, but provides readers with a smorgasbord of ideas. From Lee Iacocca's guidelines for CEOs (""Make sure you're maximizing earnings today"") to Lillian Vernon's questions for would-be entrepreneurs (""Are you prepared to work extremely hard?""), the advice is succinct but rarely simplistic.

--Publishers Weekly October 30, 2000