The Little Book of Hedge Funds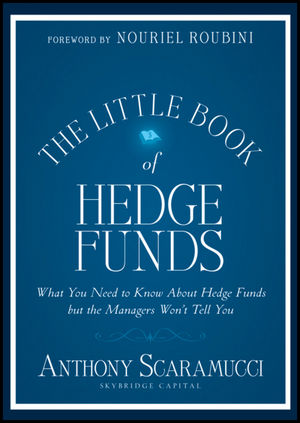 The Little Book of Hedge Funds
ISBN: 978-1-118-09967-4 May 2012 272 Pages
Description
The Little Book of Hedge Funds that's big on explanations even the casual investor can use
An accessible overview of hedge funds, from their historical origin, to their perceived effect on the global economy, to why individual investors should understand how they work, The Little Book of Hedge Funds is essential reading for anyone seeking the tools and information needed to invest in this lucrative yet mysterious world. Authored by wealth management expert Anthony Scaramucci, and providing a comprehensive overview of this shadowy corner of high finance, the book is written in a straightforward and entertaining style. Packed with introspective commentary, highly applicable advice, and engaging anecdotes, this Little Book:
Explains why the future of hedge funds lies in their ability to provide greater transparency and access in order to attract investors currently put off because they do not understand how they work
Shows that hedge funds have grown in both size and importance in the investment community and why individual investors need to be aware of their activities
Demystifies hedge fund myths, by analyzing the infamous 2 and 20 performance fee and addressing claims that there is an increased risk in investing in hedge funds
Explores a variety of financial instruments—including leverage, short selling and hedging—that hedge funds use to reduce risk, enhance returns, and minimize correlation with equity and bond markets
Written to provide novice investors, experienced financiers, and financial institutions with the tools and information needed to invest in hedge funds, this book is a must read for anyone with outstanding questions about this key part of the twenty-first century economy.
Contents
Foreword xi
Introduction: Anatomy of a Hedge Fund: The Password Is . . . xv
Chapter One What Is a Hedge Fund? The Traditional Long-Only Portfolio versus the Alternative Hedge Fund Portfolio 1
Chapter Two The Parlor Cars of the Gravy Train: The Long and the Short of It 29
Chapter Three Accessing the Inaccessible: From the Elite to Main Street 51
Chapter Four Heads We Win; Tails You Lose: Eating Your Own Cooking while Enduring Symmetrical Glories and Punishments 67
Chapter Five The Alpha Game: In Search of El Dorado 81
Chapter Six Ironing Out Inefficiencies: Exploiting the Efficient Market Theory 97
Chapter Seven A Balancing Act: Outperforming the Market while Taking Less Risk 117
Chapter Eight If You Can't Beat 'Em, Join 'Em: Hedge Fund Manager Selection and Due Diligence 143
Chapter Nine The Men Behind the Curtains: Fund of Hedge Funds 169
Chapter Ten From Wall Street to Park Avenue: Setting Up Shop at the Hedge Fund Hotel 193
Conclusion: The Shape of Things to Come 215
Appendix: Due Diligence Questionnaire 223
Notes 229
Acknowledgments 233
Most of the books I've read on investing are about as appealing as chewing on a cinder block. Fortunately, Anthony Scaramucci has written The Little Book of Hedge Funds, an entertaining and informative book without the typical Wall Street bombast, and it's nearly small enough to fit into my back pocket.
Scaramucci is a regular contributor to CNBC's Fast Money, so he knows how to deliver a cogent message when he explains "the history and evolution of hedge funds and how they operate." The Little Book of Hedge Funds has everything from interviews with industry giants (Leon Cooperman) to a Due Diligence Questionnaire for potential investors. This is not a book loaded with charts, spreadsheets and algorithms but rather a straightforward anecdotal piece with something for everyone. Whether you're a neophyte who wants to learn the basics, an investment guru who'd like to pick up some gossip -- or more importantly -- someone who is considering investing their savings with a money manager, this is a worthwhile read.
There are numerous comedy analogies throughout the book, and I found this one particularly amusing: "Mutual funds are Rodney Dangerfield, while hedge funds are Jon Stewart."
I'm not sure how accurate that is, but it kept me reading from cover to cover.
URL: http://www.huffingtonpost.com/rob-taub/book-review-the-little-bo_b_1443135.html
—The Huffington Post By Rob Taub Apr. 23, 2012