The Little Book of Value Investing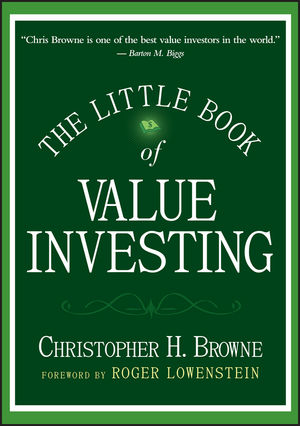 The Little Book of Value Investing
ISBN: 978-0-470-89327-2
May 2010
208 pages
Description
There are many ways to make money in today's market, but the one strategy that has truly proven itself over the years is value investing. Now, with The Little Book of Value Investing, Christopher Browne shows you how to use this wealth-building strategy to successfully buy bargain stocks around the world.
Foreword.
Acknowledgments.
Introduction.
Chapter One: Buy Stocks like Steaks . . . On Sale.
Chapter Two: What's It Worth?
Chapter Three: Belts and Suspenders for Stocks.
Chapter Four: Buy Earnings on the Cheap.
Chapter Five: Buy a Buck for 66 Cents.
Chapter Six: Around the World with 80 Stocks.
Chapter Seven: You Don't Need to Go Trekking with Dr. Livingston.
Chapter Eight: Watch the Guys in the Know.
Chapter Nine: Things That Go Bump in the Market.
Chapter Ten: Seek and You Shall Find.
Chapter Eleven: Sifting Out the Fool's Gold.
Chapter Twelve: Give the Company a Physical.
Chapter Thirteen: Physical Exam, Part II.
Chapter Fourteen: Send Your Stocks to the Mayo Clinic.
Chapter Fifteen: We Are Not in Kansas Anymore! (When in Rome).
Chapter Sixteen: Trimming the Hedges.
Chapter Seventeen: It's a Marathon, Not a Sprint.
Chapter Eighteen: Buy and Hold? Really?
Chapter Nineteen: When Only a Specialist Will Do.
Chapter Twenty: You Can Lead a Horse to Water, But . . . .
Chapter Twenty-One: Stick to Your Guns.
Don't Take My Word for It.
Bibliography.
"Fools would be well-served to place
The Little Book of Value Investing
on their holiday shopping lists". (
Fool.com
, December 12, 2006)
"sharply written...gets you fired up about buying stocks" (USA Today, December 4, 2006)
"If you are a value investor by temperament, you will (or should) find a lot that is persuasive in what Christopher Browne has to say about the craft of value investing in a delightful new book out this autumn...It is nicely written and utterly persuasive if long-term investment success is what you are after and your temperament is equipped to handle the psychological pressures of making non-consensus investments." (The Independent, November 2006)
"elegant new treatise on the art of value investing. . ." (Financial Times (UK), October 30, 2006)
"...easily digestible and shortish treatise for anyone who wants to try out this particular investment strategy".  (The Wall Street Journal, October 10, 2006)
"After 37 years of practicing what Graham preached, Browne has distilled the creed into a disarmingly chatty primer. . ." (Bloomberg)
"one of the best guidebooks toward protecting and growing a retirement nest egg. This advice comes from a legend of value investing, and it's presented with enough clarity that anyone can follow it." (Forbes.com)