The Lost Michelangelos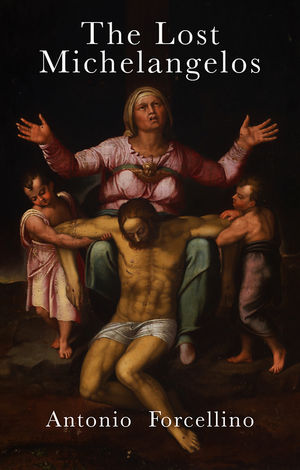 The Lost Michelangelos
ISBN: 978-0-745-68182-5 February 2014 Polity 180 Pages
Description
Translated by Lucinda Byatt
This book tells the remarkable story of a rare discovery: the uncovering of two lost paintings by the great Renaissance artist Michelangelo.

Like many stories of artistic loss, this one begins in a library in Italy, where Antonio Forcellino - a distinguished Michelangelo scholar and restorer - stumbled across some unpublished letters among the papers of Cardinal Ercole Gonzaga, son of Isabella d'Este and an extremely important figure in the Italian Renaissance. These letters comment on the paintings of Michelangelo in a way that is completely at odds with what was to become the dominant critical tradition of Michelangelo scholarship, an inconsistency that set Forcellino off on a journey that took him to Dubrovnik, Oxford, New York and Niagara Falls and culminated in the discovery of two magnificent paintings: Pieta with Mary and Two Angels, now in a private collection in America, and Cavalieri Crucifixion, now held by an educational institution in England. Through a combination of careful historical research, extensive restoration and meticulous radiographic analysis, Forcellino shows convincingly that these paintings can be traced back to the studio of Michelangelo.

This extraordinary story, brilliantly retold, calls into question the received view of Michelangelo's work and fills in a missing piece in our understanding of one of the greatest artists of all time.
Table of contents
Chapter One - Niagara
Chapter Two - Mantua, 11 June 1546
Chapter Three - Between legends and documents
Chapter Four - A movable panel
Chapter Five - Isabel Archer
Chapter Six - The meeting
Chapter Seven - The wax seals
Chapter Eight - Flying back from New York
Chapter Nine - Fabio Tempestivi
Chapter Ten - The melancholic exile
Chapter Eleven - The last survivor
Chapter Twelve - Ragusa 1573
Chapter Thirteen - The Madonna's teeth
Chapter Fourteen - The hidden drawing
Chapter Fifteen - The Stone City
Chapter Sixteen - Tempestivi's funeral
Chapter Seventeen - The island of Sipan
Chapter Eighteen - Oxford
Chapter Nineteen - Back to Buffalo
Chapter Twenty - Restoration
Chapter Twenty-One - Pentimenti
Epilogue

Reviews
"As much a story about the intransigence of the art establishment and the gaps in its tradition-bound methods for considering authentication claims as it is about the ultimate fate of the painting itself."

New York Times
"An art mystery for the ages."
New York Post

"An unlikely and rather miraculous piece of art history."
Bay Area Reporter
"In reconstructing the history of two lost paintings, Forcellino transforms the material into a cinematic plot worthy of a spy movie."
Il Manifesto
"This is an intriguing piece of artistic detective work...Reading Forcellino's investigations is like watching a jigsaw being painstakingly pieced together."
The Saturday Age
The story behind The Lost Michelangelos has garnered a lot of media attention including features in the following news outlets:
Daily News & Analysis
"In compelling fashion, Antonio Forcellino traces the remarkable journey of a painting from Rome to Dubrovnik to Berlin, and finally to Buffalo, NY: could it be a masterpiece by the greatest genius of the Italian Rennaissance?
William Wallace, Washington University, St Louis
"Forcellino's new book reads like a detective story, draws on his expertise as a restorer and makes a good case for the rediscovery of two lost paintings by Michelangelo."
Peter Burke, University of Cambridge
What's New
This book tells the remarkable story of the discovery of two lost paintings by Michelangelo Ð one held in a private collection in the US and the other held by an Oxford college.
The book is written like a kind of detective story that begins in the Vatican Library, where Forcellino came across an unpublished letter from the 16th century commenting on a painting by Michelangelo. The story then leads to Dubrovnik, Oxford, New York and Niagara Falls, culminating in the discover of the two paintings.
This discovery is very recent and the news is just beginning to spread in the art world. It will give rise to a great deal of discussion and debate among specialists and will be covered in the press. A major exhibition of the paintings is being organized in Italy.
The author is an Italian art historian and restorer who is an authority on Michelangelo and is able to write for a wide readership.
This short and very engaging book will be of great interest to anyone interested in art and the Renaissance.