The MPEG-21 Book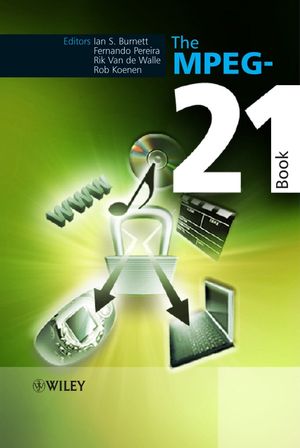 The MPEG-21 Book
ISBN: 978-0-470-01013-6 June 2006 462 Pages
Description
Understand the MPEG-21 Multimedia Framework, the standard for the creation, delivery and consumption of multimedia.
This text is the comprehensive guide to MPEG-21, the technology that provides an open framework for multimedia applications. Whereas previous MPEG standards defined compression techniques, MPEG-21 offers methods for the search, access, storage and Rights protection of content. The MPEG-21 Book offers a complete introduction to standardisation, before proceeding to discuss the vision behind MPEG-21, what 'Digital Items' are, how they are adapted and how their contents can be protected. The book provides coverage of the individual parts of the standard to an advanced level, with chapters dedicated to each of the core technologies. The authors describe not only the present situation, but also emerging developments and the relation of MPEG-21 to the other MPEG standards, giving essential insights into the future of MPEG and its impact on multimedia.
The MPEG-21 Book:
Provides an accessible explanation of the MPEG-21 standards and specifications.
Presents a comprehensive overview of the technical issues that MPEG-21 covers, including the foundational Digital Item Declaration, Digital Item Identification, Digital Item Adaptation, and Digital Item Processing.
Offers in-depth and up-to-date coverage of Rights Expression Language and Rights Data Dictionary.
Provides first detailed treatments of Event Reporting and IPMP Components.
Reviews the new MPEG technologies Multimedia Middleware, Multimedia Application Formats (MAFs) and Digital Item Streaming.
The MPEG-21 Book will provide an essential resource to researchers, engineers, Internet designers, systems designers, and content providers, creators and distributors in the entertainment and broadcasting industries. Students in communications technology, media technology and multimedia signal processing will also find it an invaluable guide to this cutting-edge technology.
Table of contents
Foreword.
Preface.
Acronyms and Abbreviations.
List of Contributors.
1 MPEG: Context, Goals and Working Methodologies (Fernando Pereira and Rob Koenen).
1.1 Introduction.
1.2 MPEG Mission.
1.3 MPEG Standards Preceding MPEG-21.
1.4 The MPEG-21 Standard.
1.5 MPEG's Standardization Process.
1.6 After an MPEG Standard is Ready.
1.7 Final Remarks.
References.
2 An Introduction to MPEG-21 (Ian S Burnett and Fernando Pereira).
2.1 Introduction.
2.2 Motivation and Objectives.
2.3 Terms – Digital Items, Users and Resources.
2.4 The MPEG-21 Vision.
2.5 Digital Items – What is New?
2.6 Walkthrough for a Broadcasting Use Case.
2.7 MPEG-21 Standard Organization.
2.8 MPEG-21 Standard Overview.  
2.9 MPEG-21 Schemas.
2.10 Conclusion.
References.
3 Digital Item Declaration and Identification   (Frederik De Keukelaere and Rik Van de Walle).
3.1 Introduction.
3.2 Digital Item Declaration.
3.3 Digital Item Identification.
3.4 Summary.
References.
4 IPMP Components   (Shane Lauf and Eva Rodriguez).
4.1 Background and Objectives.
4.2 IPMP DIDL.
4.3 IPMP Info.
4.4 Using IPMP Components in a Digital Item.
4.5 Relationship Between IPMP Components and the Other Parts of MPEG-21.
4.6 Future Outlook.
4.7 Summary.
References.
5 Rights Expression Language   (Thomas DeMartini, Jill Kalter, Mai Nguyen, Edgar Valenzuela and Xin Wang).
5.1 About this Chapter.
5.2 Introduction to Rights Expression Languages.
5.3 Understanding Licenses.
5.4 Understanding Authorization.
5.5 Selected Features.
5.6 Conclusion.
5.7 Element Index.
References.
6 The MPEG-21 Rights Data Dictionary and New Approaches to Semantics (Chris Barlas, Martin Dow and Godfrey Rust).
6.1 Introduction.
6.2 Background.
6.3 The RDD Specification.
6.4 Using the RDD.
6.5 Automating the RDD Process.
6.6 Building on the RDD.
6.7 Conclusion.
References.
7 Digital Item Adaptation – Tools for Universal Multimedia Access (Anthony Vetro, Christian Timmerer and Sylvain Devillers).
7.1 Introduction.
7.2 Universal Multimedia Access.
7.3 Overview Of Digital Item Adaptation.
7.4 Usage Environment Description Tools.
7.5 Metadata Adaptability.
7.6 Session Mobility.
7.7 DIA Configuration.
7.8 Concluding Remarks.
7.9 Acknowledgments.
References.
8 Digital Item Adaptation – Coding Format Independence (Christian Timmerer, Sylvain Devillers and Anthony Vetro).
8.1 Introduction.
8.2 Binary Resource Adaptation Based on Bitstream Syntax Descriptions.
8.3 Relating Constraints, Adaptation Operations and Resource Quality.
8.4 Linking BSD-Based DIA Tools.
8.5 Universal Constraints Description Tool.
8.6 Concluding Remarks.
8.7 Acknowledgments.
References.
9 Digital Item Processing (Frederik De Keukelaere and Gerrard Drury).
9.1 Introduction.
9.2 Terms and Definitions.
9.3 Architecture and Relationship with other MPEG-21 Parts.
9.4 Including Digital Item Processing Information in a Digital Item.
9.5 Usage of Digital Item Processing Information.
9.6 Digital Item Methods.
9.7 Usage of Digital Item Processing Information.
9.8 DIP Reference Software and Other Implementations.
9.9 Summary.
References.
10 Event Reporting (FX Nuttall, Andrew Tokmakoff and Kyunghee Ji ).
10.1 Introduction.
10.2 Scope of the Event Reporting Standard.
10.3 The General Event Reporting Mechanism.
10.4 Events.
10.5 Event Report Requests.
10.6 Event Reports.
10.7 Relationship with Other Parts of MPEG-21.
10.8 Examples.
10.9 Conclusion.
References.
11 Future MPEG Developments (Fernando Pereira and Ian S Burnett).
11.1 MPEG-21 under Development.
11.2 Beyond MPEG-21.
11.3 Conclusions.
References.
Index.