The MacIntyre Reader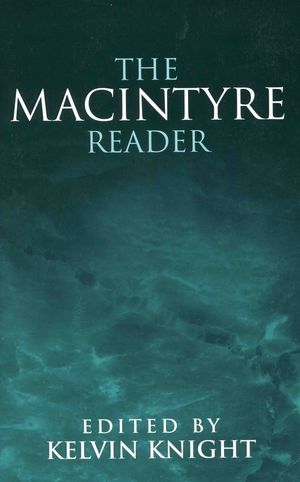 The MacIntyre Reader
ISBN: 978-0-745-61974-3 October 1998 Polity 312 Pages
Description
Alasdair MacIntyre is one of the most controversial philosophers and social theorists of our time. He opposes liberalism and postmodernism with the teleological arguments of an updated Thomistic Aristotelianism. It is this tradition, he claims, which presents the best theory so far about the nature of rationality, morality and politics.
This is the first Reader of MacIntyre's work. It includes extracts from and synopses of two famous books from the 1980s, After Virtue and Whose Justice? Which Rationality?, as well as the whole of several shorter works (one published for the first time in English) and two interviews. Taken together, these constitute not only a representative collection of his work but also the most powerful and accessible presentation of his arguments yet available.
The Reader also includes a summary, by the editor, of the development of MacIntyre's central ideas, and an extensive guide to further reading. Students will find the book a useful guide to MacIntyre's case against both capitalist institutions and academic orthodoxies.
Table of contents
Editor's Introduction.
Part I: Establishing the Project:.
"Notes from the Moral Wilderness".
Part II: Combining Social Science with Moral Theory:.
'Social Science Methodology as the Ideology of Bureaucratic Authority'.
'The Claims of 'After Virtue'.
After Virtue: A Study in Moral Theory (extracts).
Part III: Establishing a Tradition of Practical Rationality:.
'Précis of Whose Justice? Which Rationality?'.
'Practical Rationalities as Forms of Social Structure'.
'Plain Persons and Moral Philosophy: Rules, Virtues and Goods'.
Part IV: Challenging Contemporary Philosophy:.
Whose Justice? Which Rationality? (extracts).
First Principles, Final Ends and Contemporary Philosophical Issues.
'Moral Relativism, Truth and Justification'.
Part V: Challenging Contemporary Politics:.
'The Theses on Feuerbach: A Road Not Taken'.
'Politics, Philosophy and the Common Good'.
Part VI: Reflecting on the Project:.
An Interview with Giovanna Borradori.
An Interview for Cogito.
Guide to Further Reading.
Bibliography.
Index.
Reviews
"Knight's judicious selection of readings from MacIntyre's writings succeeds in exemplifying three virtues which are difficult to combine. First, they give a good indication of the range of MacIntyre's work. Secondly, they provide a good sense of the development of MacIntyre's project. Finally, each of the extracts is independently comprehensible while taken together they constitute a coherent whole. In all these respects it is hard to see how the editor could have better executed what is a difficult task. This is an accessible text which does full justice to the range and depth of MacIntyre's thought."
John Horton, Keele University
"Alasdair MacIntyre is one of the most engaging, thought-provoking and challenging philosophers of our time. Kelvin Knight's judicious selection of MacIntyre's writings and his perceptive informative introduction provide an excellent guide to the full range of MacIntyre's thinking. Knight follows MacIntyre's intellectual development from his early days when he wrote brashly for the socialist journal, The New Reasoner through the development of his neo-Aristotelianism and his more recent turn to Thomism. The MacIntyre Reader enables one to gain a sensitive appreciation of the narrative continuity and breaks in MacIntyre's intellectual journey. Altogether a splendid feast of a truly independent thinker." Richard J. Bernstein, New School for Social Research, New York
"This interesting collection offers a clear picture of Alasdair MacIntyre's powerful critique of modern philosophy and politics. What is particularly compelling is the critique of modern epistemology, which is at the heart of so much of today's thought. MacIntyre shows convincingly how badly modern theories of knowledge have failed to understand how the subject of knowledge is embedded - in a collective project of enquiry, in social practices, and in a (largely implicit) understanding of reality. Many people are willing to acknowledge this embedding but very few thinkers have worked out its consequences with the rigour and depth that MacIntyre has achieved. This is what makes his work indispensable for whoever wants to understand the blind spots of modern philosophy. In fact, this collection gives a good sense of how wide and deep MacIntyre's philosophy has ranged over the last four decades." Charles Taylor, McGill University
Features
This is the first comprehensive Reader of MacIntyre's work
Offers a comprehensive overview of and an introduction to the key works of one of the most controversial thinkers today
Includes extracts from MacIntyre's two famous books, After Virtue and Whose Justice? Whose Rationality? as well as extracts from his other works which provide an accessible presentation of his theories and arguments
The Editor has written a very helpful introduction which lays out the main themes and debates in MacIntyre's work.