The Making of English Law: King Alfred to the Twelfth Century, Legislation and its Limits, Volume I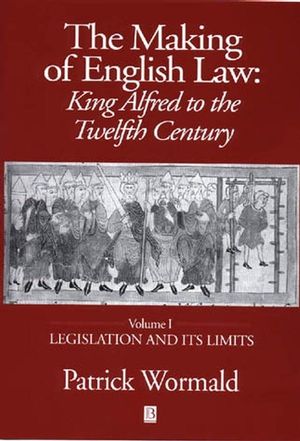 The Making of English Law: King Alfred to the Twelfth Century, Legislation and its Limits, Volume I
ISBN: 978-0-631-22740-3 May 2001 Wiley-Blackwell 596 Pages
Download Product Flyer
Download Product Flyer
Download Product Flyer is to download PDF in new tab. This is a dummy description. Download Product Flyer is to download PDF in new tab. This is a dummy description. Download Product Flyer is to download PDF in new tab. This is a dummy description. Download Product Flyer is to download PDF in new tab. This is a dummy description.
Description
'This volume, originally intended asthe first of two comprising
The Making of English Law,
provides the first full-length account of the Old English law-codes for over eighty years, and the first that has ever been published in the English language. It is designed to be both an authoritative work of reference for scholars seeking enlightenment on particular legal manuscripts or texts and a coherent account of how the corpus of Old English law from the seventh to the twelfth century came to subsist and survive.
Part I opens with an account of the historians of early English law, including the immortal F. W. Maitland (1850-1906) and Felix Liebermann, author of the definitive edition of the law codes (1898-1916). It then provides the most detailed examination English of law and legislation on the European continent in the post-Roman era and of the earliest Anglo-Saxon legislators in the seventh century. This sets the scene for the law making of King Alfred and his successors.
As well as providing an authoritative account of Anglo-Saxon legislation this much-anticipated book opens new perspectives on the emergence of the English State. It will be welcomed as a landmark in the study of English law and government, and as an exploration of the problem of authority in a pre-modern society.'
These changes are to be made to the about the book section and author bio and also to the jacket copy and should be fed out to all relevant websites.
Table of contents
Preface.
Part I: Preliminaries: .
1. Prologue: Early English Law and the Historians.
2. The Background and Origin of Early English Legislation.
Part II: The Making and Meaning of Written Law, 886-1135: .
3. The Impact of Legislation.
4. The Manuscripts of Legislation.
5. Legislation as Text.
6. Legislation as Literature.
7. Conclusion: Legislation as Legal Culture.
Bibliography.
Index.
Reviews
"This publication is an event, eagerly awaited and now exceeding expectation."
Times Literary Supplement
"The Making of English Law is the century's finest monograph in English on medieval law. It is also essential reading for those interested in continental law, in kingship and in early medieval rule and in Anglo-Saxon education...(an) outstanding work on the history of law." English Historical Review

"The first volume of this long awaited work is a magisterial analysis of the manuscripts and texts of Anglo-Saxon laws." History

"Wormald's masterful analysis of early European legislation can and should be required reading for undergraduate and academic alike." Medium Ævum

"Just in time for the twenty-first century comes Patrick Wormald's long-anticipated synthesis of years of research and fresh thinking to provide both neophytes and those with more advanced knowledge a comprehensive view of the history of scholarship on the laws, their continental relations, their physical preservation and context, and their significance as evidence. Wormald is well qualified for this ambitious undertaking and, as he threads his way through problematic issues such as the relationships among Frankish legal codes, he provides us with a sense of territory that simply cannot be found anywhere else ... Through tables, cross-references, maps, and formidable indexes, Wormald has made the book accessible and usable to anyone who has an interest in the origins of English law ... we are unlikely to see a comparable treatment of the subject for years to come." Mary P. Richards, University of Delaware

"[Wormald] provides a wealth of primary material, often quoted verbatim in translation, and accompanied by twenty tables of structures, transmission, and contents of the codes, and the times and places of the councils which pronounced them ... Bound elegantly with copious footnotes, this is a monument to a scholar's lifetime work." Canadian Journal of History

"This book is a great gift to scholarship of many kinds ... A further volume is promised ... but, even if this were to stand alone, it would put us all in great debt to its author." Arbitration Journal

"In the last twenty years Wormald has been the most assiduous explorer in the area, his brilliant essays constituting individual expeditions into the territory. The Making of English Law represents the atlas ... Its breadth is astonishing; one moment describing the western European context of post-Roman law, the next subjecting nib widths to microscopic examination to identify the scribe who wrote quire signatures in English law's oldest manuscript. The results, great and small, change how we interpret preconquest law ... Wormald's massive and brilliant study truly for the first time puts us in a position to know the history of the origins and early development of English law." Speculum
Features
Definitive collection of source material on the origins of English law.

Provides in-depth and authoritative commentary and interpretation.

Offers comprehensive scholarly apparatus for ease of study and reference.