The Man Who Changed Everything: The Life of James Clerk Maxwell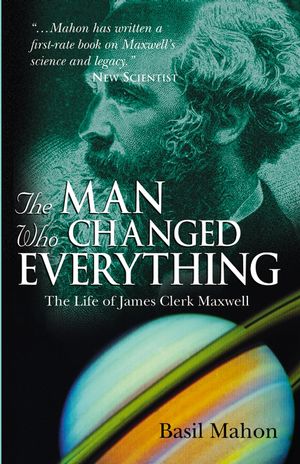 The Man Who Changed Everything: The Life of James Clerk Maxwell
ISBN: 978-0-470-01254-3 April 2015 246 Pages
Description
This is the first biography in twenty years of James Clerk Maxwell, one of the greatest scientists of our time and yet a man relatively unknown to the wider public. Approaching science with a freshness unbound by convention or previous expectations, he produced some of the most original scientific thinking of the nineteenth century — and his discoveries went on to shape the twentieth century.
Preface.
Acknowledgements.
Chronology: principal events in Maxwell's life.
Cast of characters: Maxwell's relations and close friends.
Introduction.
1. A country boy: Glenlair 1831-1841.
2. Pins and string: Edinburgh Academy 1841-1847.
3. Philosophy: Edinburgh University 1847-1850
4. Learning to juggle: Cambridge 1850-1854.
5. Blue and yellow make pink: Cambridge 1854-1856.
6. Saturn and statistics: Aberdeen 1856-1860.
7. Spinning cells: London 1860-1862.
8. The beautiful equations: London 1862-1865.
9. The Laird at home: Glenlair 1865-1870.
10. The Cavendish: Cambridge 1870-1879.
11. Last days.
12. Maxwell's legacy.
Notes.
Bibliography.
Index.
"This is a wonderful, short biography that gives a vivid account of James Clerk Maxwell's life and work." (
Materials Today
, June 2004)
"...an absorbing account of Maxwell's life and work" (Sunday Telegraph Review, 19th September 2004)
"...provides the reader with the opportunity to understand Maxwell's contributions to modern science and technology." (The Mathematical Gazette, March 2005)
"...a fascinating book about an inspiring man..." (Journal of Raman Spectroscopy, Vol.36, No.3, March 2005)