The Management of Mergers and Acquisitions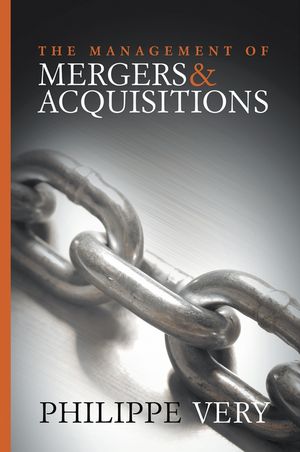 The Management of Mergers and Acquisitions
ISBN: 978-0-470-02458-4 October 2004 192 Pages
Description
"The Management of Mergers and Acquisitions is far away from the perfect, polished presentations of the merchant bankers in which value creation is all too often just the result of a well-executed PowerPoint presentation.
Philippe Very takes us into the real world where management is the key word - management of the expected and the unexpected, of rationality and emotions, of processes and people. He combines the expertise of the researcher with live business cases. This makes his book extremely easy and enjoyable to read and at the same time builds the knowledge and the understanding of the reader quickly and effectively.
A perfect vade mecum that every stakeholder in a merger and acquisition should read: bankers, consultants, buyers, sellers, CEO's and management."
Richard Simonin, Chief Executive Officer, Harrods Ltd
"Having worked with Philippe on a number of research projects, I have the highest respect for his abilities, motivation, and character. What he writes, I want to read."
Mike Lubatkin, Professor of Management and Wolf Family Chair in Strategic Entrepreneurship, University of Connecticut, Professor of Management at EM Lyon
"Philippe Very delivers a detailed guide to the entire merger and acquisition process – from identifying a target to completing the integration phase.  His highly original style, combines cliffhanger fictional stories with authoritative research results. Both M&A professionals and business students will take away a deeper understanding of the M&A process along with action points based on real-life problems."
Dr Stephen Gates, Principal Researcher, The Conference Board
"At last, a lively and entertaining management book. With little or no business experience, the case studies will give you a feel for the complexity of M&A situations. With more experience, you will quickly identify with challenges that you have faced yourself. In all cases, however good your planning and anticipation skills, expect to face the unknown. You are dealing with organizations and people: each one has expectations, frustrations, and an ego." 
Eric Bonnot, CEO, Audax – Basic System
Table of contents
List of figures and tables.
Preface.
Introduction.
1 M&A failure as a management problem.
1.1 Story: Flight NA3365 to Morkousk.
1.2 A failure . . . but not a calculated one!
2 Ego and geo: Two motivations for acquiring.
2.1 Story: To conquer the world.
2.2 Combining ego and geo . . . .
3 Choosing the right pilots.
3.1 Story: The gold nugget.
3.2 Is there a pilot in the acquisition?
4 Major M&A issues.
4.1 Story: The Christmas present.
4.2 Stars and storms.
5 Exploring the cultural dimension.
5.1 Story: Fateful encounters.
5.2 Naturally, culture is to blame.
6 Using experience, but maintaining vigilance.
6.1 Story: The Meletev cocktail.
6.2 Don't worry, we know what we're doing . . . .
7 Monitoring integration in time and space.
7.1 Story: Sabotage.
7.2 From the infinitely large to the infinitesimal.
Conclusion.
Addendum.
References.
Index.