The Management of Pain in Older People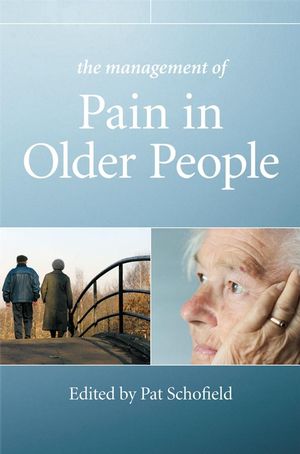 The Management of Pain in Older People
ISBN: 978-0-470-06548-8
Apr 2007
226 pages
Description
This book will enable readers to understand the principles underpinning the management of pain which a particular emphasis upon the care of the older adult. The chapters will explore concepts that are recognised to be involved in the pain experience but each author will then add their own unique perspective by applying the principles to their specialist area of practice and the care of the older adult. It is structured to include the aims and outcomes of the chapter at the beginning so that readers can track their progress, and provides chapter outlines and further reading suggestions foir this unique topic area. 
Chapter 1: Anatomy & Physiology of Pain.
Pain & Sensation.
Neural Pain Pathways.
A Delta fibres.
Dorsal Roots.
Spinal cord to brain.
Descending tracts & Substantia gelatinosa.
The pain gate.
Chronic pain.
Peripheral sensitisation.
Central Senstization.
Older People.
Chapter 2: Relating socio-economic issues with older people and pain: Independence dignity and choice.
Health Economics.
Cultural issues in older age.
Resources linked with being older and in pain .
Policy in health services, economics and older people.
Diet and health in older age, related to economics.
Independence.
Dignity.
Choice.
Chapter 3: Creaking joints, a bit of arthritis, and aches and pains': Older people's experiences and perceptions of pain.
The Study.
Is pain different for older people Equating older age with aches and pains.
Salience of older age linked to whether people experienced pain.
Effect of pain on everyday lives.
Managing the pain Keeping a positive attitude.
Others in relation to pain.
Implications for practice Exercises.
Case studies.
Mr Uddim.
Violet Jones.
Learning points.
Chapter 4: Assessment of Pain.
Visual Analogue Scale.
Numerical Rating Scale.
Verbal Descriptors.
Faces Pain Scale.
Colour Scale.
McGill Pain Questionnaire (MPQ).
Sensory Impairment.
Learning disability.
Cognitive impairment.
Perception of Pain.
Behavioural Pain Assessment Tools.
DS DAT Scale.
Checklist of non-verbal Pain Indicators (CNPI).
ADD Protocol.
DOLOPLUS Scale.
The NOPAIN Scale.
Pain Assessment Scale for Dementing Elderly (PADE).
PAINAD.
PACSLAC.
Abbey Scale.
Terminal Care.
Chapter 5 : Communication.
Research.
Care workers and mentioning dementia.
Explaining memory loss.
Chapter 6: Acute versus Chronic Pain.
Assessing Acute with Chronic Pain.
Treatment for Acute with Treatment for Chronic.
Opiophobia and Other Barriers.
Chapter 7: Cancer Pain in the elderly in palliative care settings.
How is cancer pain addressed in palliative care settings?
The total pain concept - the patient experience.
Multidimensional assessment.
The family in palliative care.
What are the issues for older people Expectations of pain in later life.
Co-morbidity.
Lack of access to specialist palliative care services.
Compliance with pharmacological treatments.
Age related alterations in drug disposition Management of cancer pain in the elderly in palliative care.
Drugs compliance/concordance.
Other treatments.
Recommendations for practice Assessment and management Roles of MDT.
SPCS intervention.
Chapter 8: Care Settings.
Problems with Chronic Pain in Older people.
Physiological Changes.
Getting used to pain.
Assessment.
Management.
Education.
Assets.
Research Ongoing.
Reluctance to report pain/ an acceptance that being in pain is normal and low expectations for help with medical interventions Age related perceptions of pain.
Lack of Awareness of potential strategies for dealing with pain.
Multidisciplinary Management.
Cognitive Behavioural Therapy.
Care Home Settings.
""Provides the reader with a comprehensive review of the management of pain."" (
International Emergency Nursing
, 2008)
""Some of the case studies make interesting reading…"" (Nursing Standard, January 2008)