The Manager's Guide to Counselling at Work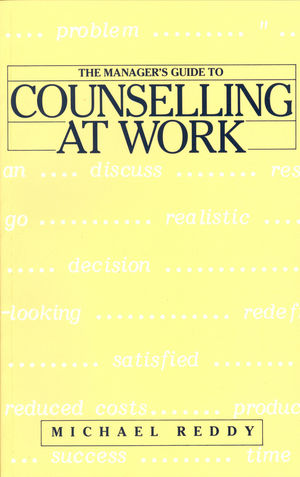 The Manager's Guide to Counselling at Work
ISBN: 978-0-901-71570-8 January 1991 146 Pages
Description
This book shows how counselling should be done, with examples for line and personnel managers, administrators and union officials. The techniques of counselling are presented in a straightforward, though not simplistic way, and the business of counselling is related throughout the book to the realities of organisational life.
1. Counselling at Work.
Section One: What Counselling Is and How It Works.
2. The Background to Counselling.
3. The Three Phases of Couselling.
4. "Counsellors" and "Clients".
Section Two: The Skills of Counselling.
5. Active Listening
6. Respect
7. Genuineness.
8. Counsellor Qualities.
9. Techniques of Phase I.
10. Phase I Example.
11. What Phase II Does.
12. Second-Level Listening.
13. Other Skills of Phase II.
14. Cautions.
15. Phase II Example -- Connie.
16. Completing the Process.
17. The Skills of Phase III.
18. Phase III Example -- "Redundancy Counselling".
Section Three: Counselling and the Organization.
19. The Context of Counselling.
20. Role Conflict in Counselling.
21. Counselling Services.
Recommended Reading.
Index.