The Market Masters: Wall Street's Top Investment Pros Reveal How to Make Money in Both Bull and Bear Markets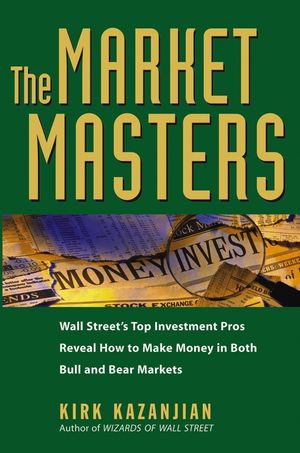 The Market Masters: Wall Street's Top Investment Pros Reveal How to Make Money in Both Bull and Bear Markets
ISBN: 978-0-471-73109-2
Apr 2005
278 pages
Description
Twenty leading money minds reveal how to prosper in today's volatile markets
What strategies have made Wall Street's top investors so successful? What are their biggest mistakes and proudest accomplishments? How do they invest their own money? And what are the keys to finding the best stocks and bonds? This enlightening book features one-on-one interviews with 20 of the world's leading mutual fund managers representing a variety of different styles-from growth gurus, value masters, bond wizards, and international globetrotters to specialists in such market sectors as technology, healthcare, financial services, and real estate. All have demonstrated track records that consistently outperform the competition. These managers speak frankly about their strategies for beating the market in good times and bad, along with their predictions for the future and exclusive lists of favorite investments for the coming years.
Kirk Kazanjian (Mountain View, CA) is an experienced investment and personal finance author. He has written more than 20 books, including Wizards of Wall Street and Value Investing with the Masters. Kazanjian is a former award-winning television news anchor and business reporter whose stories appeared on CNN and ABC stations across the country. In addition to running his own investment company, he was an executive at several leading financial firms, including American Century Investments. He is regularly interviewed by CNBC, CNNfn, and Bloomberg, and has been featured in numerous business and investment publications.
Introduction.
PART ONE: THE GROWTH GURUS.
Manu Daftary, DG Capital Management.
W. Whitfield Gardner, Gardner Lewis Asset Management.
Janna Sampson, Oak Brook Investments.
Samuel Stewart, Wasatch Advisors.
John C. Thompson, Thompson Investment Management.
PART TWO: THE VALUE MASTERS.
Robert Lyon, Institutional Capital.
Andy Pilara, RS Investments.
Richard Pzena, Pzena Investment Management.
John Schneider, PEA Capital.
Susan Suvall, Trust Company of the West.
PART THREE: THE GLOBAL GLOBETROTTERS.
Sarah Ketterer, Causeway Capital Management.
Rudolph-Riad Younes, Julius Baer Investment Management.
PART FOUR: THE SECTOR SPECIALISTS.
David Chan, Jennison Associates.
Andrew Davis, Davis Advisors.
David Ellison, FBR Fund Advisors.
Paul Wick, J. & W. Seligman & Co.
PART FIVE: THE FIXED-INCOME WIZARDS.
Daniel Fuss, Loomis Sayles.
Margaret Patel, Pioneer Investments.
PART SIX: INVESTING LIKE THE MASTERS.
Ten Keys to Beating the Market.
Glossary of Frequently Used Investment Terms.
Index.
About the Author.
""This enlightening book features interviews with 20 of the world's leading mutual fund managers"" (Investors Chronicle, 22 July 2005)