The Marriage & Family: Presentation Guide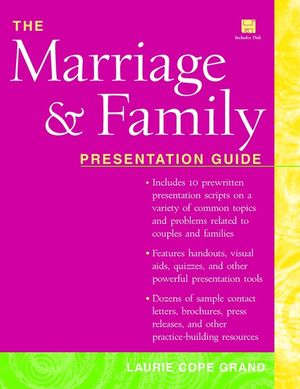 The Marriage & Family: Presentation Guide
ISBN: 978-0-471-37444-2 July 2000 256 Pages
Description
* Includes 10 prewritten presentation scripts on a variety ofcommon topics and problems related to couples and families
* Features handouts, visual aids, quizzes, and other powerfulpresentation tools
* Dozens of sample contact letters, brochures, press releases, andother practice-building resources

Everything you need to conduct polished presentations andworkshops

Presentations and workshops provide mental health professionalswith an excellent means of increasing their visibility within theircommunities and generating new referrals. For many, they alsoprovide a steady source of secondary income. But creating themyriad documents and graphical materials that go into marketing,organizing, and delivering presentations can be a forbidding taskfor the professional on the go. Now this book saves you the timeand trouble of starting from scratch by supplying you witheverything you need to conduct highly professional workshops,seminars, and presentations.

An indispensable resource for experienced and novice presentersalike, The Marriage and Family Presentation Guide supplies youwith:
* 10 scripted, customizable presentations covering an array oftopics of crucial interest to couples and families-from building agood marriage and recovering from infidelity to improving parentingskills and managing conflict in the family
* Handouts, visual aids, suggested video clips, quizzes, and otherpowerful presentation tools
* Invaluable presentation pointers, including tips on seatingarrangements, timing, body language, using humor, and more
* Sample press releases, brochures and postcards, contact andfollow-up letters, and other potent marketing tools
* A computer disk containing all the scripts and collateralmaterial in the book
Cannot be combined with any other offers.
Original Price:$130.00
Purchased together:$97.50
save $32.50
Table of contents
How to Build Your Practice with Presentations.

Presentation Pointers.

12 Tips for Marketing Your Practice.

Before the Wedding: Skills for Marriage Success.

The Good Marriage: Skills for Making Your Marriage Thrive.

The Marriage Checkup.

Recovering from Infidelity.

Single-Parent Survival Skills.

Minimizing the Emotional Toll of Divorce.

Avoiding Emotional Disasters: Just for Teens.

Managing Conflict Creatively.

Managing the Emotional Challenges of Caregiving.

Parenting Your Teenager.

About the Disk.