The Meaning of Theism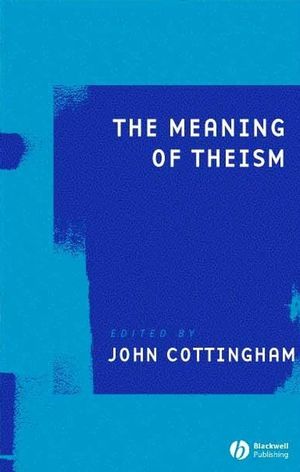 The Meaning of Theism
ISBN: 978-1-405-15960-9 May 2007 Wiley-Blackwell 144 Pages
Description
Leading philosophers reflect on what belief in God, or its absence, means for the subject and what difference it makes to the flow and perceived significance of someone's life.


A stimulating juxtaposition of views including the different perspectives of Christians, Buddhists, Jews, atheists and agnostics

Contributors include Sir Anthony Kenny, Alvin Plantinga, John Haldane, Richard Norman, David Benatar and John Cottingham

Enables the reader to see how crucial issues about the nature and significance of religious belief are dealt with from widely differing philosophical and religious perspectives
Table of contents
1. What's God Got To Do With It? Heterodoxy and Orthopraxy: David Benatar.
2. What Difference Does It Make? The Nature and Significance of Theistic Belief: John Cottingham.
3. Philosophy, the Restless Heart and the Meaning of Theism: John Haldane.
4. Worshipping an Unknown God: Anthony Kenny.
5. 'Seeke True Religion. O Where?': Michael McGhee.
6. Varieties of Non-Religious Experience: Richard Norman.
7. Divine Action in the World: Alvin Plantinga.
Reviews
"Taken as a whole, the book is a success; several essays in it will reward further, careful study." (Religious Studies Review, March 2009)
Features


Leading philosophers reflect on what belief in God, or its absence, means for the subject and what difference it makes to the flow and perceived significance of someone's life

A stimulating juxtaposition of views including the different perspectives of Christians, Buddhists, Jews, atheists and agnostics

Contributors include Sir Anthony Kenny, Alvin Plantinga, John Haldane, Richard Norman, David Benatar and John Cottingham

Enables the reader to see how crucial issues about the nature and significance of religious belief are dealt with from widely differing philosophical and religious perspectives