The Mediated Construction of Reality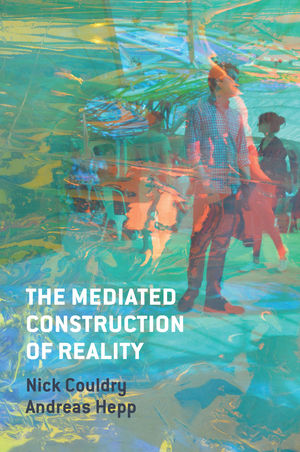 The Mediated Construction of Reality
ISBN: 978-0-745-68653-0 December 2016 Polity 256 Pages
Description
Social theory needs to be completely rethought in a world of digital media and social media platforms driven by data processes. Fifty years after Berger and Luckmann published their classic text The Social Construction of Reality, two leading sociologists of media, Nick Couldry and Andreas Hepp, revisit the question of how social theory can understand the processes through which an everyday world is constructed in and through media.
Drawing on Schütz, Elias and many other social and media theorists, they ask: what are the implications of digital media's profound involvement in those processes? Is the result a social world that is stable and liveable, or one that is increasingly unstable and unliveable?
Table of contents
Contents
Acknowledgements
Chapter 1: Introduction
Part I: Constructing the Social World
Chapter 2: The Social World as Communicative Construction
Chapter 3: History as Waves of Mediatization
Chapter 4: How We Live With Media
Part II: Dimensions of the Social World
Chapter 5: Space
Chapter 6: Time
Chapter 7: Data
Part III: Agency in the Social World
Chapter 8: Self
Chapter 9: Collectivities
Chapter 10: Order
Chapter 11: Conclusion
Notes
References
Index
Reviews
Winner of the Theory Award 2017 of the German Communication Association (DGPuK)
"This book by Couldry and Hepp might well become a new classic in the theory of the social, on par with Elias and Latour. Theorizing the mediated construction of reality, the authors sketch the new contours of 'a space where order is at stake.' Mandatory reading for everyone who seriously reflects on the implications of contemporary media systems and practices on society."
José van Dijck, University of Amsterdam, The Netherlands


"A profound and illuminating attempt to bring core traditions of social theory into the study of media in the digital age. An excellent and pathbreaking book."
Anthony Giddens, member of the House of Lords, former director of the London School of Economics and Political Science


"In this wide-ranging, ambitious volume, Couldry and Hepp revisit Berger & Luckmann's classic work on social construction. Their theory of "deep mediatization" resituates digital media systems and networked "figurations" of communicative action as interdependent, constitutive phenomena in contemporary sociality and social worlds.
Mediated Construction
is an indispensable contribution to social theory in communication research and media sociology."
Leah Lievrouw, University of California, Los Angeles


"This is not a book about media, but a book about the world shaped by media. And it is not just about that empirical reality, but about how to understand it. Couldry and Hepp develop insights from phenomenology and integrate these with critical theory in an exciting combination."
Craig Calhoun, London School of Economics and Political Science
"
The Mediated Construction of Reality
is simply an important book for sociology and for media and communication studies alike – maybe as important as
The Social Construction of Reality
became half a century ago."
Soziopolis
"It might seem overly ambitious for communication studies to develop, rather than just draw upon, social theories that may have an enduring cross-disciplinary impact. Yet, as media sociologists Nick Couldry (London School of Economics and Political Science) and Andreas Hepp (University of Bremen) show in The Mediated Construction of Reality, it is time to do just that. … Scholars of interpersonal, organizational, and political communication—or anyone who is concerned about the implications of the digital age—will find insights in this book."

Meng Li, Journalism & Mass Communication Quarterly


"This book is written by a formidable team. ... Couldry and Hepp argue convincingly that big data, artificial intelligence and automation intensify the complexity of the social, and its degrees of interdependence... [They] engage in a Herculean struggle to describe the social meaning of data processing in the human lifeworld, and the book is full of sharp observations. I am really glad they took the trouble to write it."
Lars Nyre, New Media & Society


"[T]he book…shines with a solid sociological framework, a comprehensive grasp of the relevant literature, and an insightful understanding of the most urgent issues surrounding new media and society. It is simply a must-read for students of the field who seek inspiration for thinking about these issues."
Elaine Yuan, Global Media and Communication