The Medical Job Interview: Secrets for Success, 2nd Edition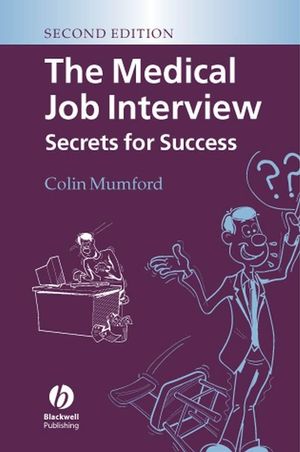 The Medical Job Interview: Secrets for Success, 2nd Edition
ISBN: 978-1-405-14379-0
Feb 2009, Wiley-Blackwell
88 pages
Description
This book has been written specifically for busy junior doctors looking for that 'competitive edge'. The medical interview is quite different from any other interview, but this book will help you prepare well in advance to optimize your chance of success. In this new edition, there are more details on how best to present your CV, different interview strategies to adopt, real-life example questions with answers good and bad, and information on what happens behind the scenes.





This book provides all you need to know to be a winner in a medical interview. Read this book and nail that job!





The Medical Job Interview



Explains how to prepare the best curriculum vitae

Tells you what you should do to get short listed

Shows you how to find out who will be on the interview panel, and how you can anticipate their questions

Gives tips on appropriate behaviour in an interview

Advises you on negotiating salary and terms
Reviews of first edition:
"...I would whole heartedly recommend this book to anyone who is applying for a hospital position ... I found it a real help during my preparation for applying for house jobs..."
Cambridge Medicine

"An excellent guide to the process of applying and getting hospital posts in the UK system...This book is a must for final year students, house officers and senior house officers who are looking for hospital posts and would not go amiss for those contemplating more senior appointments."
Senior House Officer in Medicine, Newcastle upon Tyne

Preface to the second edition.
Acknowledgements.
Note for would-be medical students.
1 Introduction.
2 Before the interview.
Spotting the advert.
'The commando operation' to get on the short list.
To visit or not to visit?.
Whom to see once you are short listed.
How to choose a winning referee.
3 Getting the curriculum vitae right.
Presentation.
Professional company?.
Order of jobs.
Gaps on the CV.
Other content.
'Dangerous' CV content.
Contact details for your referees.
4 The interview.
Where, when and how?.
What to wear.
How to sit.
Eye contact, where to look and the 'CV run-through'.
Gesture.
Voice usage.
How to end the interview.
5 Specific interview strategies.
'I'm in there already'.
The rank outsider.
Unorthodoxy.
Lying.
6 The questions.
Inevitable questions.
Probable questions.
Problem questions and how to escape.
'Cringe' questions.
'Googlies'.
Handling the 'vicar's wife' panel member.
Hill walking and motorbikes.
'Any questions for the panel ...?'.
7 Potential minefields for women candidates.
Career gaps to have children.
Applying for a job share.
Other delays in career progress.
8 Actual questions and answers.
Good, bad and ghastly.
9 What happens behind the scenes?.
Who choses the panel and how are panel members selected?.
Who is the chairman?.
What are they told beforehand?.
What do they discuss when you've gone?.
How important are the references?.
10 After the interview.
The job offer.
Negotiation.
What if you weren't successful?.
11 Conclusion.
Index
"This book is well laid out in a very readable style and contains a wealth of information for anyone who is applying for a hospital position in the UK system. The editor has succeeded in bringing the relevant information together and this is well presented for a text of this size. It will serve as a very useful source of information for all doctors looking for their early hospital jobs and is eminently readable." Annals of Royal College of Surgeons England, 2007
Providing busy junior doctors with that competitive edge in gaining the right job successfully


Brand new edition of highly popular text giving junior doctors the help and support they need

Specifically written with hints on gaining that competitive edge in a medical interview to nail the right job

Includes details on how to prepare the best CV and what they should do to help get shortlisted

Provides the best advice on how to handle interviews, good techniques and negotiating the best terms