The Mental Health Desk Reference: A Practice-Based Guide to Diagnosis, Treatment, and Professional Ethics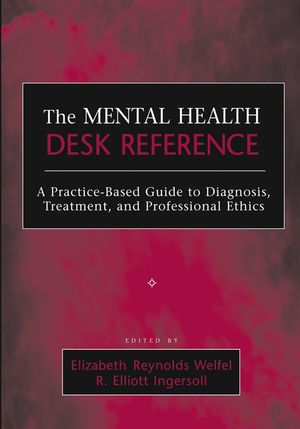 The Mental Health Desk Reference: A Practice-Based Guide to Diagnosis, Treatment, and Professional Ethics
ISBN: 978-0-471-44162-5 April 2002 450 Pages
Description
A practical, easy-to-use, and comprehensive reference for mental health professionals

The Mental Health Desk Reference is the ultimate guide to effective and responsible mental health practice. It provides authoritative, concise, and up-to-date information from more than seventy experts regarding diagnosis, treatment, and ethics of practice. Each entry summarizes key constructs and terminology associated with the topic, major findings from research, and specific recommendations on theory and practice. Important topics covered include:
* Adjustment disorders and life stress
* Diagnosis and treatment of adults
* Diagnosis and treatment of children
* Crisis intervention
* Diverse populations
* Group and family interventions
* Practice management
* Professional issues
* Ethical and legal issues
* Professional resources


These detailed, readable entries-based on the most extensive and reliable research available-form a comprehensive, straightforward, and quick-reference resource applicable to practitioners across every field in mental health. The Mental Health Desk Reference is the single resource no mental health professional can afford to be without.
Table of contents
Editors.
Contributors.
PART I: COUNSELING FOR ADJUSTMENT DISORDERS AND LIFE STRESS.
1. Prevalence of Adult Disorders (R. Ingersoll & L. Burns).
2. Counseling Clients with Underlying Medical Problems (C. Brems).
3. Counseling with Unemployed and Underemployed Clients (E. Lent).
4. Effective College Counseling (N. Lipsitz).
5. Divorce Counseling (K. Kitzmann & N. Gaylord).
6. Death and Bereavement (S. Freeman).
7. Stress, Coping, and Well-Being: Applications of Theory to Practice (J. Romano).
8. The Fat Client (J. Melcher & G. Bostwick).
9. Guidelines for Counseling Clients with HIV Spectrum Disorders (P. Britton).
PART II: DIAGNOSIS AND TREATMENT OF ADULTS WITH MENTAL AND EMOTIONAL DISORDERS.
10. Effective Use of the DSM from a Developmental/Wellness Perspective (E. Ginter & A. Glauser).
11. Clinical and Diagnostic Interviewing (T. Lane & D. Fleming).
12. Effective Treatment Planning (C. Faiver).
13. The Nonmedical Therapist's Role in Pharmacological Inte rventions with Adults (R. Ingersoll). < p> Guidelines for Counseling Mandated and Nonvoluntary Clients (R. Rooney).
14. Guidelines for Cousneling Mandated and Nonvoluntary Clients (R. Rooney).
15. Using Test Data in Counseling and Clinical Practice (K. Maccluskie).
16. Treating Anxiety Disorders in Adults (P. Granello & D. Granello).
17. Diagnosis and Treatment of Adult Depressive Disorders (G. Gintner).
18. Eating Disorders: Guidelines for Assessment, Treatment, and Referral (C. Kalodner & J. Van Lone).
19. Clinical Practice Issues in Assessing for Adult Substance Use Disorders (B. Pidcock & J. Polansky).
20. Management of Personality Disorders (D. Granello & P. Granello).
21. Schizophrenia and Severe Mental Illness: Guidelines for Assessment, Treatment, and Referral (S. Bichsel).
PART III: DIAGNOSIS AND TREATMENT OF CHILDREN WITH MENTAL AND EMOTIONAL DISORDERS.
22. Prevalence of Childhood Disorders (R. Ingersoll & S. Previts).
23. Diagnostic Evaluation of Mental and Emotional Disorders of Childhood (T. Swales).
24. Child Maltreatrnent: Treatment of Child and Adolescent Victims (C. Miller-Perrin).
25. Treating Anxiety Disorders in Children (C. Kearney & L. Linning).
26. Interventions for Attention-Deficit/Hyperactivity Disorder (J. Nigg & M. Rappley).
27. Bullying: Counseling Perpetrators and Victims (R. Hazler).
28. Assessment and Treatment Recommendations for Children and Adolescents with Depression (B. McWhirter & J. Burrow).
29. Counseling Interventions for Children with Disruptive Behaviors (J. Sommers-Flanagan, et al.).
30. Effective Use of DSM-IV with Children (A. House).
31. Enlisting Appropriate Parental Cooperation and Involvement in Children's
Mental Health Treatment (L. Taylor & H. Adelman).
32. Understanding and Promoting Resilience with Our Clients (C. Rak).
33. Substance Abuse among Children and Adolescents (M. Windle).
PART IV: CRISIS INTERVENTION ISSUES.
34. Responding to a Community Crisis: Frontline Counseling (A. Bauer).
35. Treatment for Violent Children and Adolescents (T. Crespi).
36. Responding to Survivors of Sexual Assault (P. Frazier, et al.).
37. Suicide Risk Assessment (J. Rogers).
38. Counseling Interventions with Suicidal Clients (R. Sommers-Flanagan, et al.).
39. Responding to Dangerous Clients (D. Truscott & J. Evans).
PART V: COUNSELING DIVERSE POPULATIONS.
40. Multicultural Assessment ( L. Suzuki & J. Kugler).
41. Counseling African Americans Clients (L. Wicker, et al.).
42. Counseling Asian American Clients (D. Sue).
43. Counseling Latino Clients (R. Quinonesdelvalle).
44. Counseling American Indian/Alaskan Native Clients (J. Peregoy).
45. Disability and Rehabilitation Counseling (E. Martin & G. Gandy).
46. Counseling Older Adults (V. Schwiebert & J. Myers).
47. Counseling Older Adults in Institutional Settings (N. Orel).
48. Affirmative Assessment and Therapy with Lesbian, Gay, and Bisexual Clients (T. Palma).
49. Counseling Women from a Feminist Perspective (P. Remer, et al.).
PART VI: GROUP AND FAMILY INTERVENTIONS.
50. Using Brief Groups Effectively (D. Coe).
51. Exploring Diversity in Therapeutic Groups (R. Conyne, et al.).
52. Solution-Focused Family Counseling (C. Osborn, et al.).
53. Assessment in Couple and Family Counseling (M. Sporakowski, et al.).
54. Family Counseling Competencies (M. Warnke).
PART VII: PRACTICE MANAGEMENT.
55. Practicing Evidence-Based Mental Health: Using Research and Measuring Outcomes (T. Sexton & M. Liddle).
56. Advertising, Marketing, and Financing a Mental Health Practice (H. Smith).
57. Counselors: Dealing with the Media (J. DeTrude).
58. Counselors as Expert Witnesses (L. Stokes & T. Remley).
PART VIII: PERSONAL CARE AND INTERPROFESSIONAL RELATIONS: COPING WITH THE DEMANDS OF THE PROFESSION.
59. Impairment in the Mental Health Professions (H. Stadler).
60. Ethical Issues Related to Interprofessional Communication (H. Glosoff).
61. When Therapists Face Stress and Crisis: Self-Initiated Coping Strategies (J. Kottler & M. Schofield).
62. Treatment Failures: Opportunities for Learning (L. Veach).
PART IX: ETHICAL AND LEGAL ISSUES.
63. Ethics Complaints: Procedures for Filing and Responding (C. Williams).
64. Protecting Client's Rights to Privacy (E. Welfel).
65. Accurate and Effective Informed Consent (M. Handelsman).
66. Responsible Documentation (K. Maccluskie).
67. Managing Boundaries (B. Herlihy).
68. Reporting Suspected Child Abuse (S. Kalichman ).
69. Defining and Recognizing Elder Abuse (P. Danzinger).
70. The Responsible Use of Technology in Mental Health Practice (E. Welfel & K. Heinlen).
71. Counseling Supervision: Essential Concepts and Practices (R. Goodyear, et al.).
72. Responsible Interactions with Managed Care Organizations (E. Welfel).
Appendix: Ethics Codes and Guidelines in Mental Health Disciplines.
Author Index.
Subject Index. 
New To This Edition
Now available in an affordable paperback format!
What's New
Contains important information on critical aspects of mental health research and practice, including diagnosis and treatment of child and adult disorders, diversity, crisis intervention, group and family therapy, practice management, and ethical and legal issues

Topics organized alphabetically for easy reference

Includes dozens of contributed entries from experts in all areas of mental health practice

Comprehensive quick-reference resource contains indispensable information for students preparing for careers in any mental health field