The Mental Health Nurse: Views of Practice and Education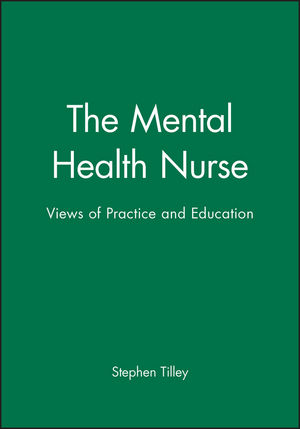 The Mental Health Nurse: Views of Practice and Education
ISBN: 978-0-632-03999-9 October 1997 Wiley-Blackwell 236 Pages
Description
Who and what are mental-health nurses now, and what might they become? In this book a number of prominent nurse educators and practitioners answer these questions. Each contributor presents a different version of the mental health nurse, thereby stimulating students, teachers and practitioners to read and think more widely about mental-health nursing. The Mental Health Nurse invites those contemplating a career in mental-health nursing to imagine shaping the future. For those established in this specialty, the book's dialogues help them reflect on their concepts of this nursing field. Written by a team of experienced practitioners in mental health, the chapters draw directly on personal experiences and research to highlight current problematic issues, and help readers to view long-established topics--including the role of the mental health nurse--in a new light. The book's premise is that because there is no clear consensus on this role, differing versions may be not only appropriate but desirable. Finally, the depth and range of experience of the contributors will also appeal to teachers of social sciences interested in current health care and professionalisation issues.
A personal view of psychiatric nursing;.
The craft of care - towards collaborative caring in psychiatric nursing;.
Caring about the client - the role of gender, empathy and power in the therapeutic process;.
Coercion and control and mental health nursing;.
Reflections from the outside in - my journey into, through and out of psychiatric nursing;.
Reflections of senior nurse manager;.
Taking stock of psychiatric nursing;.
Ambiguity in nursing - the person and the organisation as contrasting sources of meaning in nursing practice;.
Therapeutic mental health nursing in the acute in-patient setting - mission impossible;.
The mental health nurse as rhetorician;.
Negotiating differences in mental health nursing in New Zealand;.
Is dementia a challenge to the identity of the mental health nurse?;.
Conclusion;.
Index
"A tremendously enjoyable, stimulating and challenging read"
"I found this powerful and challenging. The book is not one to be left on the shelf, but should encourage vigorous debate if we are to define and articulate our role, thereby remaining at the forefront of influencing changes in patient care. I would highly recommend it"Mental Health Nursing
"Informative, enlightening and challenging, but always encouraging and stimulating, it is to be highly recommended to any mental health nurses who take their position seriously"Nursing Standard
* presents multi-faceted views of the mental health nurse * considers current thought and future prospects * contributions from prominent nurse educators and practitioners in mental health * written in accessible, jargon-free style