The Merck Veterinary Manual, 10th Edition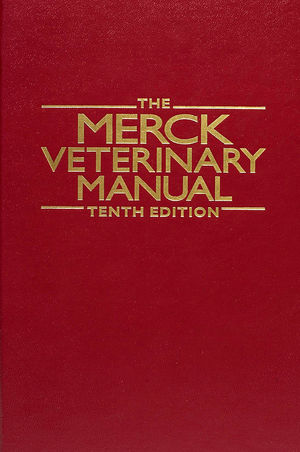 The Merck Veterinary Manual, 10th Edition
ISBN: 978-0-911-91093-3
Oct 2010
Product not available for purchase
Description
The Merck Veterinary Manual is the most comprehensive, reliable reference for veterinary professionals. Trusted for more than 50 years, this reference now features hundreds of full-color images, including illustrations, photomicrographs, and radiographic, ultrasonographic, and endoscopic images. In addition, all 3,000 pages have been updated to reflect the latest advances in veterinary medicine.

This new edition offers comprehensive coverage of exotic and laboratory animals and an extensively revised zoonoses reference table. The section on behavior has been thoroughly revised, and includes the most current information on diagnosing and treating behavioral disorders in dogs, cats, and other domestic animals.

Updated Content:
Comprensive discussion of diseases and disorders affecting all common domestic animals

Expanded coverage of exotic animals, including pet birds, fish, ratites, reptiles, and rodents

Zoonotic potential of veterinary diseases is highlighted throughout

Expanded discussions of topics such as antimicrobial resistance, off-label drug usage, vaccines, and advances in imaging techniques

Extensively revised Behavior and Immunology sections

Reorganized Toxicology section for easier reference
Ten Brand-New Chapters
African Hedgehogs

Biology of the Immune System

Cloning of Domestic Animals

Complementary and Alternative Veterinary Medicine

Disorders of Potassium Metabolism

Equine Metabolic Syndrome

Poisonous Mushrooms

Porcine Circovirus Diseases

Pseudopregnancy in Goats

Seminal Vesiculitis in Bulls
The Merck Manual has also been completely redesigned for easier reading. Offering a colorful new look at animal health, this edition is truly indispensable.
Foreword.
Guide for Readers.
Abbreviations and Symbols.
Contributors.
Circulatory System.
Digestive System.
Eye and Ear.
Endocrine System.
Generalized Conditions.
Immune System.
Integumentary System.
Metabolic Disorders.
Nervous System.
Reproductive System.
Respiratory System.
Urinary System.
Behavior.
Clinical Pathology and Procedure.
Emergency Medicine and Critical Care.
Exotic and Laboratory Animals.
Management and Nutrition.
Pharmacology.
Poultry.
Toxicology Zoonoses.
Reference guides.
Index.
"This book continue to be a valuable resource for veterinary students and veterinarians. The changes made to the 10th edition make the book more useful and continue to keep it current." (American Journal of Veterinary Research, 4 April 2011)