The Metropolis and its Image: Constructing Identities for London, c. 1750-1950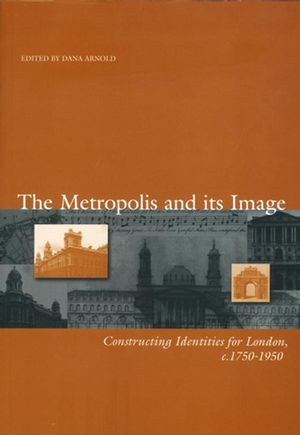 The Metropolis and its Image: Constructing Identities for London, c. 1750-1950
ISBN: 978-0-631-21667-4 February 2000 Wiley-Blackwell 184 Pages
Description
This book examines key moments in the emergence of London as a metropolis and considers different ways in which its image has been formulated and presented. The chapters address a range of topics from specific questions of architectural style to the relationship between the City of London and London as a metropolis, and explore different methods of constructing urban identities.
Table of contents
1. Aestheticizing the Accidental City: Antiquarianism, Topography and the Representation of London in the Long Eighteenth-Century: Lucy Peltz (The Museum of London).
2. Peripheral Visions: Alternative Aspects and Rural Presences in Mid-Eighteenth-Century London: Elizabeth McKellar (Birkbeck College, University of London).
3. 'Beastly Sights': the Treatment of Animals as a Moral Theme in Representations of London c. 1820-1850: Diana Donald (Manchester Metropolitan University).
4. London Bridge and its Symbolic Identity in the Regency Metropolis: The Dialectic of Civic and National Pride: Dana Arnold (University of Southampton).
5. Government and the Metropolitan Image: Ministers, Parliament and the Concept of a Capital City, 1840-1915: Michael Port (Queen Mary and Westfield College, University of London).
6. Rebuilding 'The Heart of the Empire': Bank Headquarters in the City of London, 1919-1939: Iain Black (King's College, London).
7. Benjamin's Paris, Freud's Rome: Whose London?: Adrian Rifkin (Middlesex University).