The Middle East For Dummies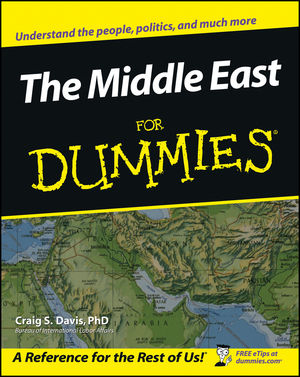 The Middle East For Dummies
ISBN: 978-1-118-05393-5
Mar 2011
408 pages
Description
Demystifies the area's culture, politics, and religions

Explore Middle Eastern history from ancient to modern times

Looking to better understand the Middle East? This plain-English guide explains the importance of the region, especially in light of recent events. You'll meet its people and their leaders, discover the differences and similarities between Arab and Western mindsets, and examine the wars and conflicts - including the Israeli-Palestinian turmoil - that led up to the current political situation.

The Dummies Way
* Explanations in plain English
* ""Get in, get out"" information
* Icons and other navigational aids
* Tear-out cheat sheet
* Top ten lists
* A dash of humor and fun
Introduction.
Part I: Getting Acquainted with the Middle East.
Chapter 1: The Middle East's Relevance in the 21st Century.
Chapter 2: Charting a Map.
Chapter 3: Middle Eastern Hospitality.
Part II: The History of the Middle East.
Chapter 4: The Ancient Middle East.
Chapter 5: The Medieval Middle East.
Chapter 6: The Modern Middle East.
Part III: Politics, Islam, and Oil: Three Reasons Not to Ignore the Middle East.
Chapter 7: Leadership: Kings, Presidents, and Dictators.
Chapter 8: Islamic Militancy in a Nutshell.
Chapter 9: Islam and the West.
Chapter 10: It's All About the Oil: Economics in the Middle East.
Part IV: Regions in Turmoil.
Chapter 11: The Powder Keg: Israel and Palestine.
Chapter 12: Iraq.
Chapter 13: Afghanistan.
Chapter 14: Pakistan.
Part V: Regions in Repair.
Chapter 15: North Africa.
Chapter 16: Jordan, Lebanon, and Syria.
Chapter 17: The Arabian Peninsula.
Chapter 18: Non-Arab Muslim States.
Part VI: Cultural Contributions of the Middle East.
Chapter 19: A Mosaic of Religions.
Chapter 20: Religions on the Edge.
Chapter 21: The Family: The Hub of Middle Eastern Life.
Chapter 22: Language and Literature.
Chapter 23: Arts and Sciences.
Part VII: The Part of Tens.
Chapter 24: Ten Key Ethnic Groups.
Chapter 25: Ten Key Militant Groups.
Chapter 26: Ten Key Challenges.
Index.