The Milkshake Moment: Overcoming Stupid Systems, Pointless Policies and Muddled Management to Realize Real Growth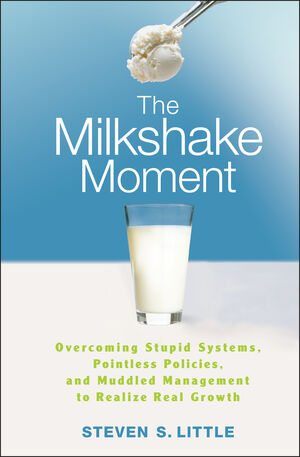 The Milkshake Moment: Overcoming Stupid Systems, Pointless Policies and Muddled Management to Realize Real Growth
ISBN: 978-1-118-03952-6 December 2010 208 Pages
Description
Growth is the central focus of every business, yet many businesses continually find ways to shoot themselves in the foot. In Milkshake Moment, Steven Little shows you how to identify and overcome the stifling behaviors built into your organization and get you back on track to substantive change and real growth. Read Milkshake Moment and find out how to ditch the pointless policies and stupid rules so you can give your customers what they really want; they'll reward you for it.
Table of contents
Section 1. The Milkshake Moment.
Chapter 1. It Was a Dark and Stormy Night.
Chapter 2. Half Empty or Half Full?
Chapter 3. This is NOT a Customer Service Book.
Section 2. Foster Grow vs. Status Quo.
Chapter 4. A Brief History of Organizations and Man(agement).
Chapter 5. Stop and Consider the Nature of the Modern Organization.
Chapter 6. Toddlers and Trust.
Chapter 7. Some Shocking Behavior.
Chapter 8. Lessons from the Cubicle Farm.
Chapter 9. The Managed.
Chapter 10. The Led.
Section 3. Place Purpose Before Profit.
Chapter 11. It's Never About Money.
Chapter 12. The Wizard of Westwood.
Chapter 13. Profit Pushers.
Chapter 14. NoClu Motors, Inc.
Chapter 15. Purpose in the Plan.
Chapter 16. Getting it Right.
Section 4. INSOURCE Crucial Judgment.
Chapter 17. Edicts Made on High.
Chapter 18. Peeves from Below.
Chapter 19. Proactive Policies.
Chapter 20. How 'bout Them Pomegranates?
Chapter 21. Come Harter or High Water.
Section 5. Address the "People Problem" Problem.
Chapter 22. The Ballad of the Black Box.
Chapter 23. Eric's Excalibur.
Chapter 24. Why People Work.
Section 6. Care For Customers.
Chapter 25. Home Team Drops the Ball.
Chapter 26. The Big Secret to Great Customer Service.
Chapter 27. Even Geniuses Struggle To Serve.
Chapter 28. It Takes a Hero.
Chapter 29. The Future Is Already Here. . .Some Folks Just Aren't Getting The Memos.