The Million-Dollar Idea in Everyone: Easy New Ways to Make Money from Your Interests, Insights, and Inventions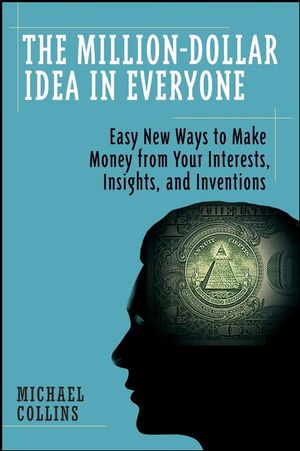 The Million-Dollar Idea in Everyone: Easy New Ways to Make Money from Your Interests, Insights, and Inventions
ISBN: 978-0-470-19336-5
Mar 2008
256 pages
Product not available for purchase
Description
The Million-Dollar Idea in Everyone gives you new and exciting ways to make money from your interests, insights, and inventions. With the phenomenon of ?open source innovation? it?s easier than ever to turn your ideas and expertise into profits. This book shows how lone inventors are being supplanted by everyday experts using blogs, virtual communities, and microbusinesses to bring ideas and inventions to fruition. Whether you just want to make a few extra dollars or start a new business, this handy inventor?s guide points the way.
Introduction.
Acknowledgments.
Part I. Getting To Know You.
Chapter 1. Everyday Experts: How People Are Profiting From What They Already Know.
Getting Into The Open Innovation Movement.
Chapter 2. Think Big. Start Small.
Thinking Big.
Starting Small.
Chapter 3. Pursue Your Passion, Let The Money Follow.
Be Patient And Persistent.
Let The Money Follow.
Chapter 4. Uncovering Your Brand Potential: Personal Inventory.
Ground Rules.
It's All About You.
Putting It All Together.
Part II. Putting Your Ideas Into Action.
Chapter 5. Beginning Level: Test-Drive Your Expertise.
Innovation Contests.
User-Driven Businesses.
Insight Opportunities.
Finding Beginning Level Opportunities.
Chapter 6. Intermediate Level: Find Your Sweet Spot.
Create An Online Presence.
Attract Visitors.
Get Rewards.
Do It For The Love.
Chapter 7. Advanced Level: Kick It Up A Notch.
When To Leverage Your Platform.
How To Go To The Next Level.
Checkpoint.
Part III. Fine Tuning Your Everyday Expertise.
Chapter 8. Be Good At Something: Pick A Niche. Fill A Need.
Pick A Niche.
Fill A Need.
Chapter 9. Invent For Less.
Think Big. Start Small.
Pick A Niche. Fill A Need.
Chapter 10. Sink Or Swim: Learn How To Sell.
Get Over The Stigma.
Learn How To Sell.
The First Sale.
Get Someone Else To Help.
Chapter 11. Get Over It: Learn From Rejection.
Reduce The Number Of Rejections You'll Face.
Take The Opportunity To Learn.
Know When To Walk Away.
Part IV. Tools, Tips, And Tricks.
Ten Tips For Getting Started.
Terminology.
Where To Start.
Getting Help.
Blog Notes.
Business In General.
Contests.
Creatives.
Industry News.
Inventing And Product Development.
Places To Sell Your Stuff.
Podcast Sites.
Publicity And Promotion.
Miscellaneous.
Web Traffic And Ad Revenue.
"both a manifesto for why you should embrace open innovation, and a manual." (The Guardian, Saturday 5th April 2008)